Archive - Programme 2016
24.06. (Friday) – 8:30 pm – The Old Market Square (in the open air) - A Blues Evening – The opening of the Festival
Admission free
Marzena Ugorna – vocal
Kamil Barański – keyboard instruments
Krzysztof Kawałko – electric guitar
Bartosz Mielczarek  – bass guitar
Maciek Gołyźniak – drums
Marta Dryll, Beata Orbik, Małgorzta Auron, Lena Sokalska – backing singers
Tomasz Filipczak – conductor
Toruńska Orkiestra Symfoniczna
The programme will include: T. Nalepa, M. Kubasińska, M. Jakubowicz, Cz. Niemen, J. Joplin
1.07 – 2.09.2016 r. – Collegium Maximum UMK - Opening – 1.07 (Friday) – 7 pm
Mariusz Kałdowski. With a brush and a pan.
Exhibition
Open: Tue - Wed: 10-3pm, Thu - Fri: 12-6 pm
Admission free
The event is co-organized by University Museum in Toruń
2.07 (Saturday) – 8 pm – St Catherine's Church - A Polish and Ukrainian Music Evening
Admission free
The Young Violinists' Orchestra of Lutsk
The programme will include: H. Wieniawski, A. Vivaldi, Ukrainian composers
The concert will be held under Honorary Patronage of Lutsk City Mayor – Mr. Mykola Romaniuk
9.07 (Saturday) 8 pm – The Great Hall of the Artus Court - A Romantic Evening
Marcel Markowski – cello (Sinfonia Varsovia)
Jakub Chrenowicz – conductor
The Płock Symphony Orchestra
The programme will include:
P. Tchaikovsky – Pezzo Capriccioso Op. 62
P. Tchaikovsky – Variations on a Rococo Theme Op. 33
L. van Beethoven – Symphony No. 5 in C-minor Op. 67
15.07 (Friday) – 7 pm – Hanza Cafe – An evening with films - Pożegnania / Okuribito – directed by Yojiro Takita
Admission free with prior reservation
16.07 (Saturday) 8 pm – The Great Hall of the Artus Court - A Galant Music Evening
Arte dei Suonatori:
Dohyo Sol – lute
Ewa Golińska – violin
Aureliusz Goliński – violin
Poppy Walshaw – cello
The programme will include: L. Boccherini, S. L. Weiss, K. Kohau
17.07 (Sunday) – 1 pm – The Old Market Square (in the open air)
Admission free
Concert for kids
17.07 (Sunday) – 8 pm – The Old Market Square (in the open air) - An Evening with Frank Sinatra
Admission free
Jarek Wist – vocal
Piotr Wrombel – piano
Wojciech Pulcyn – double bass
Krzysztof Szmańda – drums
23.07 (Saturday) 11 am – The starting piont will be in front of the Artus Court - Tour with the Guide – Music in the Churches od Toruń
Admission free with prior reservation
23.07 (Saturday)8 pm – St Stephen's Church - A Finniesh Evening
Tuomas Pyrhonen – organ
Suvi Granberg – violin
The programme will include: J.S. Bach, J. K. Kerll, G. P. Telemann, D. Buxtehude, A. Corelli
The concert will be held under the patronage of the Honorary Consul of Finland in Toruń, Mr Tadeusz Pająk
30.07 (Saturday) 8 pm – The Chamber Hall of CKK Jordanki - A Latino-American Evening – Bach Goes Samba
The Classical Music Maniacs – "Bach Goes Samba" project
Jarolim Ruzicka – the leader
Kiril Soyanova – drums
The programme will include: J.S. Bacha, A. Vivaldiego, B. Brittena, Queen
Concert will be held under the patronage of the Slovak Institute in Warsaw.
6.08 (Saturday) 8 pm – The Great Hall of the Artus Court - An Asian Evening
Yu So-Yung – soprano
Pyung On Cha – conductor
The Korea Academy Orchestra
The programme will include: J. Brahms – Taniec węgierski nr 1, J. Strauss II – Polka "Grzmoty i błyskawice", temat muzyczny z filmu "Mission Impossible", trad. – Arirang – koreańska pieśń ludowa
12.08 (Friday)7 pm – Hanza Cafe – An evening with films - "Flamenco, flamenco" – directed by Carlos Saura
Admission free with prior reservation
14.08 (Sunday)1.30 pm – The Cathedral odf St John the Baptist and St John the Evangelist - A Gospel Music Concert
Admission free
Black International Gospel Singers
The programme will include: gospel music
17.08 – 31.08, Gallery Tumult - The Architecture of Music in Poland. The exhibition.
Admission free
The exhibition is co-organized by the Toruńbranch of the Association of Polish Architects.
19.08 (Friday)7 pm – Hanza Cafe – An evening with films - "4 ostatnie pieśni" – directed by Francesca Joseph
Admission free with prior reservation
20.08 (Saturday) 11 am – The starting piont will be in front of the Artus Court - Tour with the Guide – Music in the Churches od Toruń
Admission free with prior reservation
20.08 (Saturday)8 pm – The Great Hall of the Artus Court - Young Talents' Evening
Admission free with prior reservation
The pianists participating in the Paderewski Piano Academy
Przemysław Fiugajski – conductor
The Toruń Symphony Orchestra
The programme will include: the most popular piano's concertos – W.A. Mozart, L. van Beethoven, F. Chopin, E, Grieg, S. Rachmaninow
28.08 (Sunday), 6 pm – The Concert Hall of CKK Jordanki - An Evening with a Star
Natalia Kukulska – vocal
Atom String Quartet
Michał Dąbrówka – drums
The programme will include: Pieces from the album 'The Eighth Plan' arranged by the Quartet
3.09 (Saturday) 8 pm – The Concert Hall of CKK Jordanki - A Tenors' Evening – The Festiwal Finale
Mikołaj Adamczak – tenor
Oleksandr Ostrovski – tenor
Hubert Stolarski – tenor
Łukasz Załęski – tenor
Adam Banaszak – conductor
The Toruń Symphony Orchestra
The Guests:
Marcelina Beucher – soprano
Maria Rozynek – Banaszak – soprano
The programme will include: G. Dionizetti, G. Verdi, G. Puccini, J. Strauss, J. Offenbach, najpiękniejsze pieśni neapolitańskie, piosenki z repertuaru Jana Kiepury oraz duety
Artists in the alphabetical order
ARTE DEI SUONATORI – a Baroque orchestra formed in Poznań (Poland) in 1993 by violinists Ewa and Aureliusz Goliński, has become the most recognisable Polish ensemble on the international music scene. Their repertoire exceeds 600 compositions representing a wide range of styles and forms of 17th- and 18th-century, and also contemporary, music. Alongside performances throughout Europe and the United States, they have co-created and co-organised five significant festival series in Poland. Their concert cycle "Early Music-Persona Grata" is the largest in Poland dedicated to historically-informed performance, having expanded rapidly from its beginnings in 1998. Their concerts have been broadcast by many major European radio stations including the BBC, NDR, Danish Radio DR, Polish Radio PR2, and recorded by Polish Television.
Since its formation, the orchestra has worked with a wide range of major figures of the Early Music world. Among more than forty outstanding soloists and conductors, particularly fruitful and inspiring collaborations have developed with artists such as Martin Gester, Rachel Podger, Alexis Kossenko, Bolette Roed, Hidemi Suzuki, Eduardo López Banzo, Reinhard Goebel, Dan Laurin, Ruby Hughes, Hille Perl, and Roberta Invernizzi. The orchestra's approach and unique way of music-making have enjoyed great international interest testified by awards for their recordings such as Gramophone Awards, Diapason d'Or, Choc du Monde de la Musique, Luister 10, 10 de Repertoire, Gramophone Editor's Choice, Gramophone CD of the Month, Classics Today, and Prelude Orchestral CD of the Year.
ATOM STRING QUARTET  is the leading Polish jazz group and one of the most interesting quartets of the world. Since these four the most lovable violin players, with the energy adequate to the band's name (Jan "Ptaszyn" Wróblewski) received the Grand Prix of the 13th Bielska Zadymka Jazz Festival, they constantly play at the greatest European music festivals, e.g. Berliner Jazztage, Jazz Baltica, Festival Veranos de la Villa Madrid, Jazz Jamboree, Ethno Jazz Festival or Solidarity of Arts. In 2011 their record "Fade In" received the Polish phonographic industry award "Fryderyk", in the category of Jazz Debut of the Year. The second album "Places" published in 2012 by Kayax was awarded "Fryderyk" for Jazz Album of the Year. Moreover, Atom String Quartet was given the Grand Prix of the Music Lovers' Society in New Hope category. The quartet has cooperated with such artists as Bobby McFerrin, Gil Goldstein, Paolo Fresu, Wolfgang Haffner, Christian von Kaphengst, Rupert Stamm, Mathias Haus, Vladislav `Adzik` Sendecki, Leszek Możdżer, Lars Danielsson, Zohar Fresco, Andre Ochodlo, Urszula Dudziak, Kayah, Aga Zaryan, Marek Moś, Jerzy Maksymiuk, Janusz Olejniczak, Krzesimir Dębski, Adam Sztaba, Grzech Piotrowski, Krzysztof Herdzin, Józef Skrzek, and such bands as AUKSO Chamber Orchestra, Elbląg Chamber Orchestra, Grzech Piotrowski World Orchestra, Sinfonia Viva and Sebastian Karpiel-Bułecka Highlanders Quartet and Motion Trio.
Atom String Quartet is created by two violinists: Dawid Lubowicz and Mateusz Smoczyński, a violist – Michał Zaborski and cellist – Krzysztof Lenczowski.
ADAM BANASZAK – a conductor; he studied symphony conducting under Professor Marcin Sompoliński at the I. J. Paderewski Academy of Music in Poznań. He took part in a number of master classes led, among others, by Dejan Savic (Burgas Opera) and Bernard Haitinek (Luzern Festival). He specialises mainly in the opera repertoire; in 2011 he made his debut as a conductor of G. Puccini's Madame Butterfly, which was soon followed by W. A. Mozart's Don Giovanni and G. Verdi's La Traviata. Until today, he has also conducted W. A. Mozart's The Magic Flute, J. Strauss' The Bat, J. Offenbach's Orpheus in the Underworld, E. Kalman's The Gipsy Princess, F. Loewe's My Fair Lady and C. Porter's ,Kiss Me Kate.He has performed at many festivals, such as the Bydgoszcz Opera Festival, the Jan Kiepura Festival in Krynica-Zdrój, as well as Malta, Animator, Chanterelle, Nostalgia, Poznań Baroque and Transatlantyk festivals.
As a part of his conductor's practice, he has prepared orchestras for concerts of artists such as Andrea Bocelli, Jose Carreras, Montserrat Caballe and Placido Domingo.
BLACK INTERNATIONAL GOSPEL SINGERS was founded by Terry Lovique in the year 2006 in Berlin, Germany, Europe. The Group consists of international professional creative artists who come together to sing the glorious Gospels of God. "B.I.G.S." capitalizes on the different styles of Gospel music: From the old traditions to the new modern Gospels. The Show has a variety of singers, who bring to you their interpretations of singing Gods great Gospels! The show is something to see, it will have you off your seats, you will rejoice!
PYUNG-ON CHA – Pyung-on Cha majored in Piano at Kyung Won University in Korea and completed his Master's degree in conducting at Linz Anton Bruckner University in Austria. He served as assistant conductor of the Janáček Orchestra in the Czech Republic, the National
Reubibeu Radio Symphony Orchestra, the Jeju Municipal Symphony Orchestra, and the Seongnam Municipal Symphony Orchestra. He now serves as the principal conductor the Korea Academy Orchestra and the Bundang Musen Orchestra. In addition to teaching, he often lectures and performs in companies and government offices. Since we Koreans consider education to be especially important, he has exceptional affection for the KAO's growth and its educational role in society.
JAKUB CHRENOWICZ – Born in 1986, from 2010 to 2012 he was Assistant Conductor to Antoni Wit at the Warsaw Philharmonic Orchestra, appointed to the position fresh out of the Ignacy Jan Paderewski Academy of Music in Poznań where he majored with honors in symphonic and opera conducting as a student of Jerzy Salwarowski. As part of the LLP-Erasmus program, he studied at the Hochschule für Musik und Darstellende Kunst in Frankfurt am Main and won a scholarship from the Accademia Musicale Chigiana, studying with Gianluigi Gelmetti.
Jakub Chrenowicz has conducted a number of symphony orchestras, including the Warsaw Philharmonic Orchestra, Sinfonia Varsovia, Polish National Radio Symphony Orchestra in Katowice, Polish Radio Symphony Orchestra, Sinfonietta Cracovia, Kammerorchester Berlin, Orquestra Simfonica Gran Teatre del Liceu, Poznań Philharmonic, Łódź Philharmonic, Gdańsk Philharmonic, Bydgoszcz Philharmonic and Cracow Philharmonic. Since the beginning of 2012/2013 season he is the 1st Conductor of Podlasie Opera and Philharmonic in Białystok.
THE CLASSICAL MUSIC MANIACS is an ensemble of extraordinary professional musicians composed of the first players and soloists of the greatest symphonic orchestras in Slovakia – Slovak Philharmonic, Slovak National Theatre, Radio Symphony Orchestra. It was founded and is headed by artistic director Jarolím Emmanuel
Ružička, who is also the first concertmaster of the Slovak Philharmonic. With its artistic contribution and universal art of interpretation, this ensemble has attracted
unprecedented interest since the beginning of its existence. In a short time, the TCMM has achieved what many ensembles are not able to attain in years of concert activities,
or what others have lost over the years. There is great interest in TCMM concerts, and they inspire affinity as a result of their singular vision of classical music in the 21st century, in spite of everything and everybody. As a result, TCMM will not leave even the most stubborn opponents of classical music in doubt that The Classical Music Maniacs, Slovak Chamber Ensemble, are a unique ensemble, which by their inimitable interpretation, image and input are able to address literally all age categories of listeners with their breathtaking concert shows and projects. The basic idea behind the "Classical Maniacs" is "street classical music ", i.e. music for everyone, spreading like an epidemic.
PRZEMYSŁAW FIUGAJSKI – conductor, graduate of the Academy of Music in Krakow, holder of scholarship granted by the Minister of Culture for several times. His interests in the field of conducting focus on music of the classicism era and contemporary music. He performed with most Polish orchestras and with numerous bands which play contemporary music. Since 2003, he has worked at the Warsaw Chamber Opera where he took part in preparing the performance of over a dozen operas. He performed during recordings made by Polish Radio, Polish Television, Polish Audiovisual Publishing House and "Dux" record company. CD's with his participation were winners of "Fryderyk 2009" and "Supersonic 2010" (Luxembourg) awards. His plays were staged in theatres in Wroclaw, Warsaw and Częstochowa.
NATALIA KUKULSKA – is a Polish singer performing pop and R&B music, turning towards alternative electronica in the 2010s. She debuted as a child singer in 1986, and released her first "adult" solo album in 1996. Her most popular songs include "Dłoń", "Piosenka światłoczuła", "Im więcej ciebie tym mniej", "W biegu", "Tyle słońca w całym mieście" and "Wierność jest nudna". She has sold over 1.8 million albums as of 2014.
MARCEL MARKOWSKI – studied in the Fryderyk Chopin Secondary State Music School Complex in Warsaw in the cello class of Professor Karol Leonowicz, in the Zenon Brzewski General Music School in Warsaw in the cello class of Professor Stanisław Firlej, in the Henryk Wieniawski General Music School in Łódź in the class of Professor Stanisław Firlej (completed with honours), in the K. & G. Bacewicz Academy of Music in Łódź in the class of Professor Stanisław Firlej (bachelor degree completed with honours), in the K. & G. Bacewicz Academy of Music in Łódź in the class of Professor Stanisław Firlej (master's degree) and in the class of Professor Michael Flaksman and Jelena Ocic in Mannheim (Germany) under the Erasmus international exchange program.
OLEKSANDR OSTROVSKIY – tenor born in Ukraine. In 2007 he graduated from the Kiev Musical Academy named by P.I.Tchaikovsky on two specialties – a piano and a vocal. After that he passed training in the National Opera of Ukraine. Alexander is the Laureate of International Contests of N.Lysenko and A.Solovyanenko (Grand Prix). He toured to USA, Germany, Spain, Holland, Poland, Austria. His repertoire contains parts as Alfredo ("La Traviata" by G.Verdi), Duke of Mantua ("Rigoletto" by G.Verdi), Lensky ("Eugene Onegin" by P.Tchaikovsky),Vaudémont ("Iolanta" by P.Tchaikovsky), Don Jose ("Carmen" by G. Bizet). In 2011 he made his debut in Prince ("Rusalka" by A.Dvorak) in Gelicon-opera (Moscow). Since 2011 he is the soloist of art-project "The Tenors of XXI Century".
In 2014 -2015 he was a student of the International Menuhin Music Academy in Coppet (Switzerland)
LUTSK VIOLIN ENSEMBLE – Violin ensemble of music school was founded in 1997 in order to attract children playing in the ensemble, to acquire skills of music-making, to improve performance mastery, to study and promote violin art works. The ensemble's repertoire is distinguished by a wide palette of the violin works: from ancient to contemporary composers. Director of the ensemble –  Iryna Tesler. The ensemble is a multiple winner of international and national competitions and festivals: 2007 – diploma winner of the International Competition "Blue Bird" (Alushta City, Ukraine); 2009 – 1st place at the International Competition "Golden Grains of Ukraine" (Kyiv City, Ukraine); 2010 – 1st place at the National festival and competition "Akademkontsert 2010" (Kyiv City, Ukraine); 2011 – 1st place at the International festival and competition "Music Regensburg"(Germany);  2013 – the Grand Prix award at the National festival and competition "Lviv Rhapsody"; 2014 – the Grand Prix award at the National competition "Pearl of the West" (Lviv City, Ukraine). Violin ensemble is a constant member of the various concerts, creative and artistic activities held in the school, region, city.
TUOMAS PYRHONEN – studied at the church music department of the Sibelius-Academy in Helsinki, Finland between years 1988 and 1996. The degree of the Bachelor of music he got in 1994 and two years later he obtained his organ diploma with excellent marks under professor Kari Jussila. Immediately after that, between October 1996 and July 1998, he studied in Germany at the Stuttgart University of Music and Performing Arts with professor Ludger Lohmann obtaining his "Artistic final examination" in summer 1998. In December 1998 Tuomas Pyrhönen played his debut concert at the Kallio church in Helsinki. Pyrhönen has worked since February 2002 as a church musician of the highest degree in Joensuu parish in Eastern Finland. In autumn 2010 he begun his doctorate studies at the Sibelius-Academy, Helsinki Finnish organ music between the 1960's and the 2010's as his subject. He successfully played his second concert in March 2012 at the Helsinki cathedral of his five concerts belonging to these studies.
YU SO-YUNG – was born in Cheju, South Korea, where she also received her first singing lessons. She studied singing at the Yonsei University with professor Song Kwang-Sung and graduated at this university in 1989. In 1987 she won the first prize at the music competition of the  Korean Ministry of culture in Seoul. In 1991 Yu came to Vienna, where she continued to study at the National University of Music and Fine Arts in Vienna. Her teacher for singing was professor Ralf Doering, at the opera class it was professor Curt Malm and her teacher for songs and oratorio was professor Norman Shetler. Yu graduated with a Master degree from this university in 1998. In 1995 Yu won a special price at the Emmi Destin singing competition in Ceske Budejovice, Czech Republic. While studying, she performed many solo recitals and orchestra concerts in Austria, Germany, Czechoslovakia, Hungary and Korea. In 1998 Yu So-Yung had her opera debut at the Vienna Opera Theatre, where she performed with great success in John Adams "Nixon in China". In 1999, 2000 and 2001 she sang in the "Wiener Volksoper" in Benjamin Brittens "A midsummer nights dream". In February 2000 Yu sang the Despina in Mozarts "Cosina fan tutte" at the National Opera House in Cluj, Romania. In Summer 2002 Yu presented Richard Strauss' "The last four songs" with the National Symphony Orchestra of Ukraine in Kiev. Yu also performed in the following operas: As Lauretta in "Gianni Schicchi", as Celia in Mozarts "Lucio Silla" and as Lisetta in Haydns "La Vera Constanza". Yu also sang in Carl Orffs "Carmina Burana" at the Carinthia summer festival, various Strauss arias at the Johann Strauss festival in Belgium and in Beethoven's 9th Symphony with the Janacek Philharmonic Orchestra at the "Korean Day" in Ostrava; Czech Republic and in Italy. She performed with the Ansan Traditional Music Orchestra and the Dabyeot Youth Wind Orchestra on their Europe concert tours. Yu sang with the Daegu Opera Festival Orchestra at a Opera gala tour in Colombia, Soith America. She also gave orchestra concerts with the Janacek Camerata of Ostrava, Czech Republic, the Transilvania Philharmonic Orchestra of Cluj, Romania, the Banatul Timisoara Philharmonic Orchestra, the Giurgiu Philharmonic Orchestra of Romania, the MAV Symphonic Orchestra of Budapest, the Kosice Symphonic Orchestra of Slovakia, the Suwon City orchestra and the Cheju City Orchestra.
Partners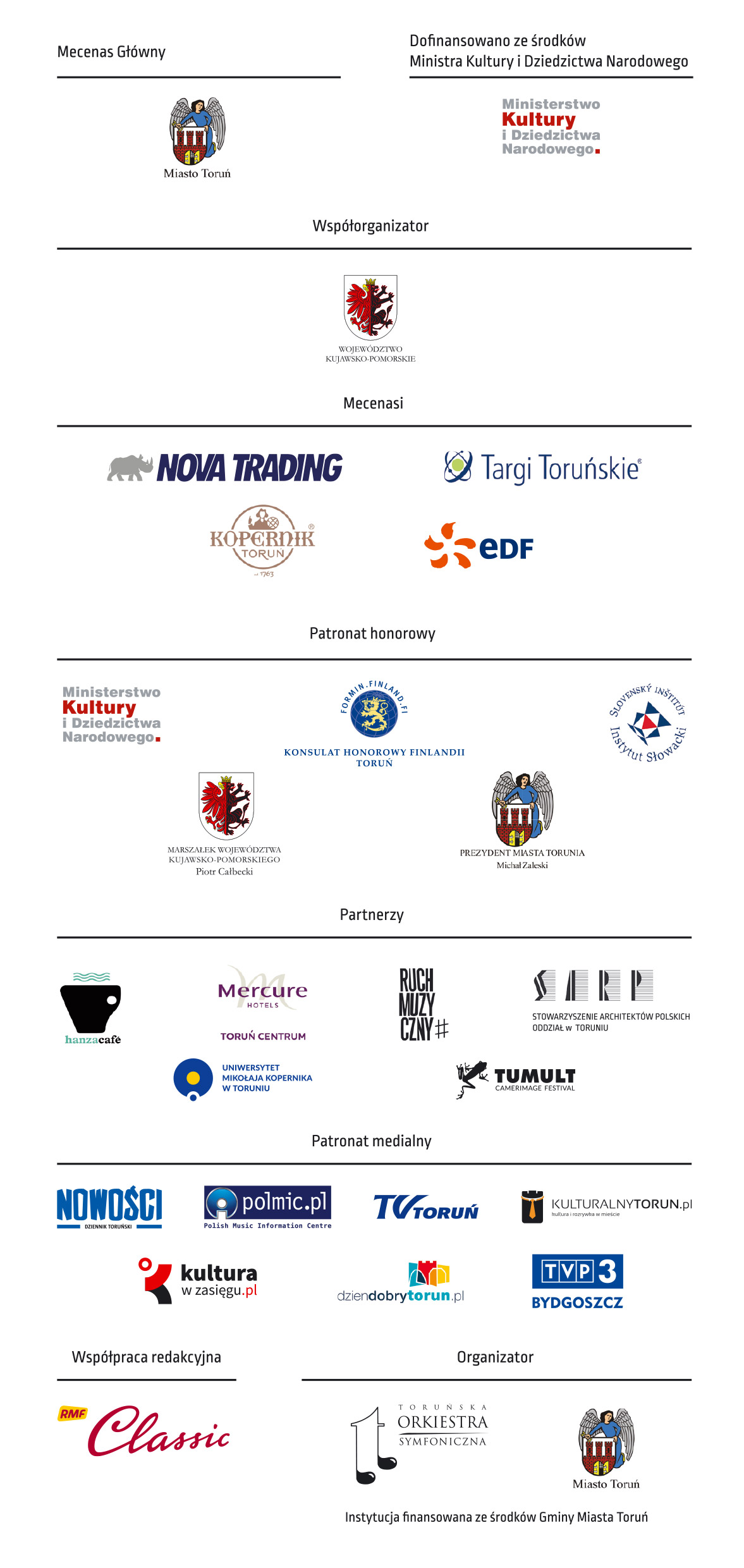 Gallery
Festival 2016 – photographer: Łukasz Ułanowski
Gallery: LINK
Festival 2016 – photographer: Robert Berent
Gallery: LINK