Damian Aleksander graduated with honours from the Academy of Music in Poznań at the Faculty of Vocal Performance and Acting. In 1998 he was a finalist of the 29th Stage Song Review in Wrocław. In 2000 he made his debut on the stage of ROMA Musical Theatre in Warsaw, where he played lead roles in such musicals as: Miss Saigon, Grease, Five Guys Named Moe, Cats, Les Miserables or Phantom of the Opera (he was awarded a triple Platinum Record for the role of Eric). Since 2012, he has been working with Podlaska Opera and Orchestra. In 2016-2018, he directed and performed in three productions: the New Year's Eve Galas organised by Podlaska Opera and Orchestra and the Christmas Concert of Carols and Pastorales: God is Born. He is the initiator and producer of the musical show Tribute to Musical LIVE (recorded on CD). In the Musical Theatre in Poznań he played main roles in musicals Jekyll & Hyde, Nine and the Addams Family. Together with the Discovery Channel he made the Polish version of the popular science series Test Case.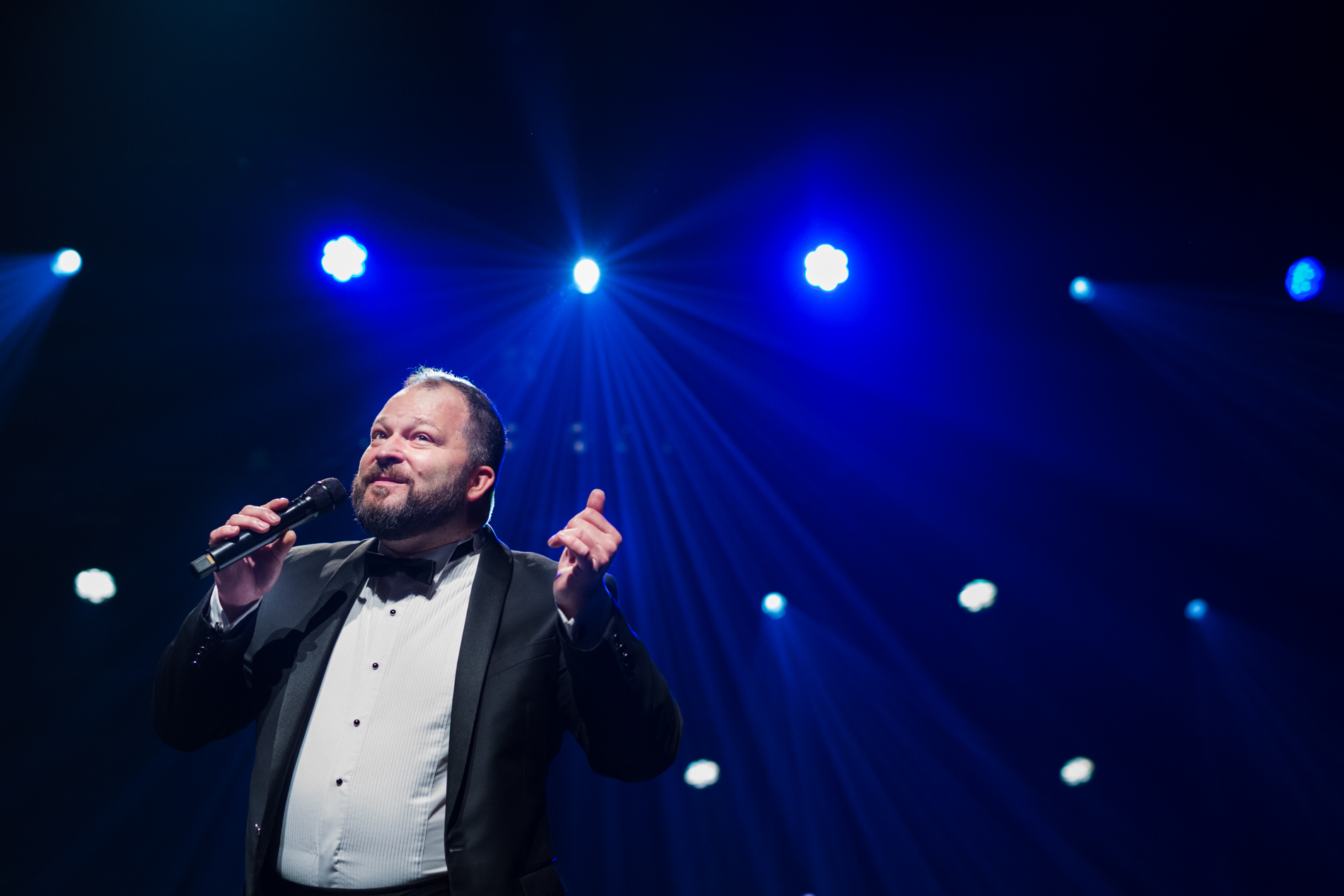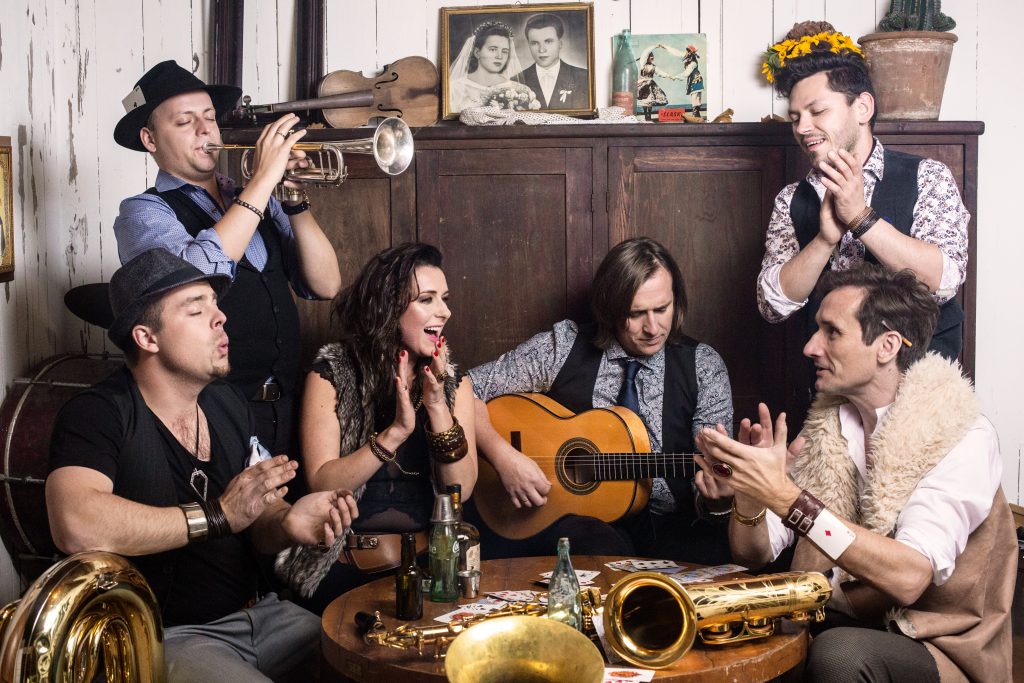 CARAVANA BANDA IS NOT MERELY GUYS WITH TRUMPETS, OH NO! IT'S ONE GIRL AND BOYS WITH BIG TRUMPETS, GUITAR AND DRUMS AND AN UNUSUAL MUSICAL IDEA.
Dance and flamenco voice of Magda Navarrete, Czech Brass Band, international line-up of outstanding musicians. Amazing energy and musical artistry. A stunning mixture of Spanish, Balkan and gypsy jazz notes! The band combines musical panache with 'street' energy. For more than two years the band has been winning audiences in the Czech Republic, Slovakia, Germany and Poland, and now also in Brazil. The band's producer is Ale Siqueira himself – a 5-time Latin Grammy winner. The band is heading to Brazil this year to tour and finish the album.
Sławomir Chrzanowski completed his musical studies at the Academy of Music in Katowice, where he graduated in 1986 in Music Theory and in 1989 in Symphonic Conducting. In 1990, he was appointed General Manager and Art Director of the Zabrze Philharmonic as a result of a competition, and has held this position ever since. He has given over 2800 concerts on various stages in Poland and abroad together with this orchestra. He has made over a dozen CD recordings as well as archive recordings for the Polish Radio and Polish Television. He has conducted more than 70 orchestras all over the world, including all Polish philharmonic and chamber orchestras, with which he still cooperates on a regular basis. He regularly performs with Czech orchestras, as well as opera companies in Kraków, Bytom, Gdańsk, Białystok, Łódź and Lviv. He cooperates with music theatres. In 2006 he prepared the premiere of Lehar's 'The Merry Widow' in Warsaw, and in 2019 Bernstein's 'Candide' in Kraków. In 2002, he performed in the famous concert halls of America – Carnegie Hall in New York with a concert of Polish music.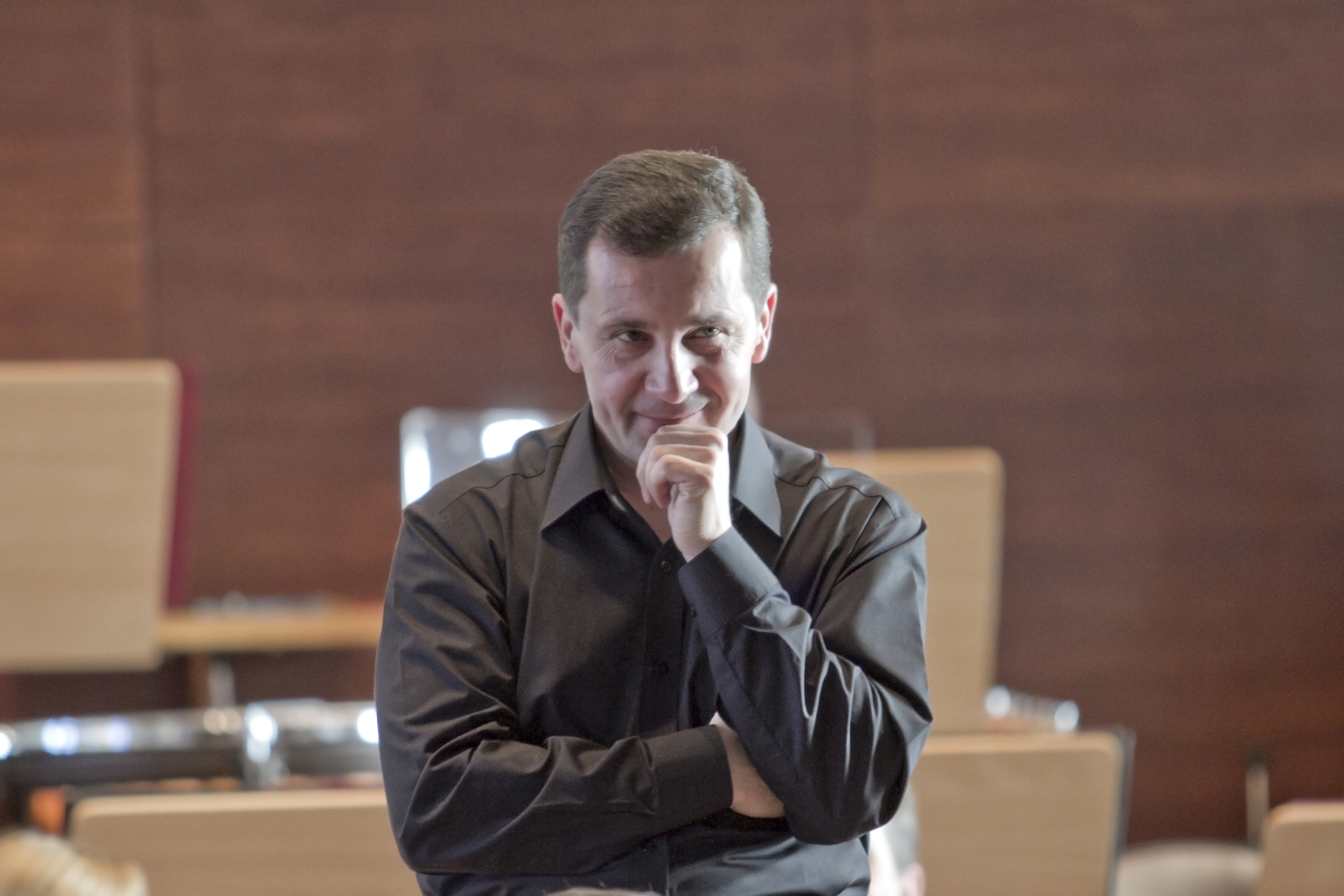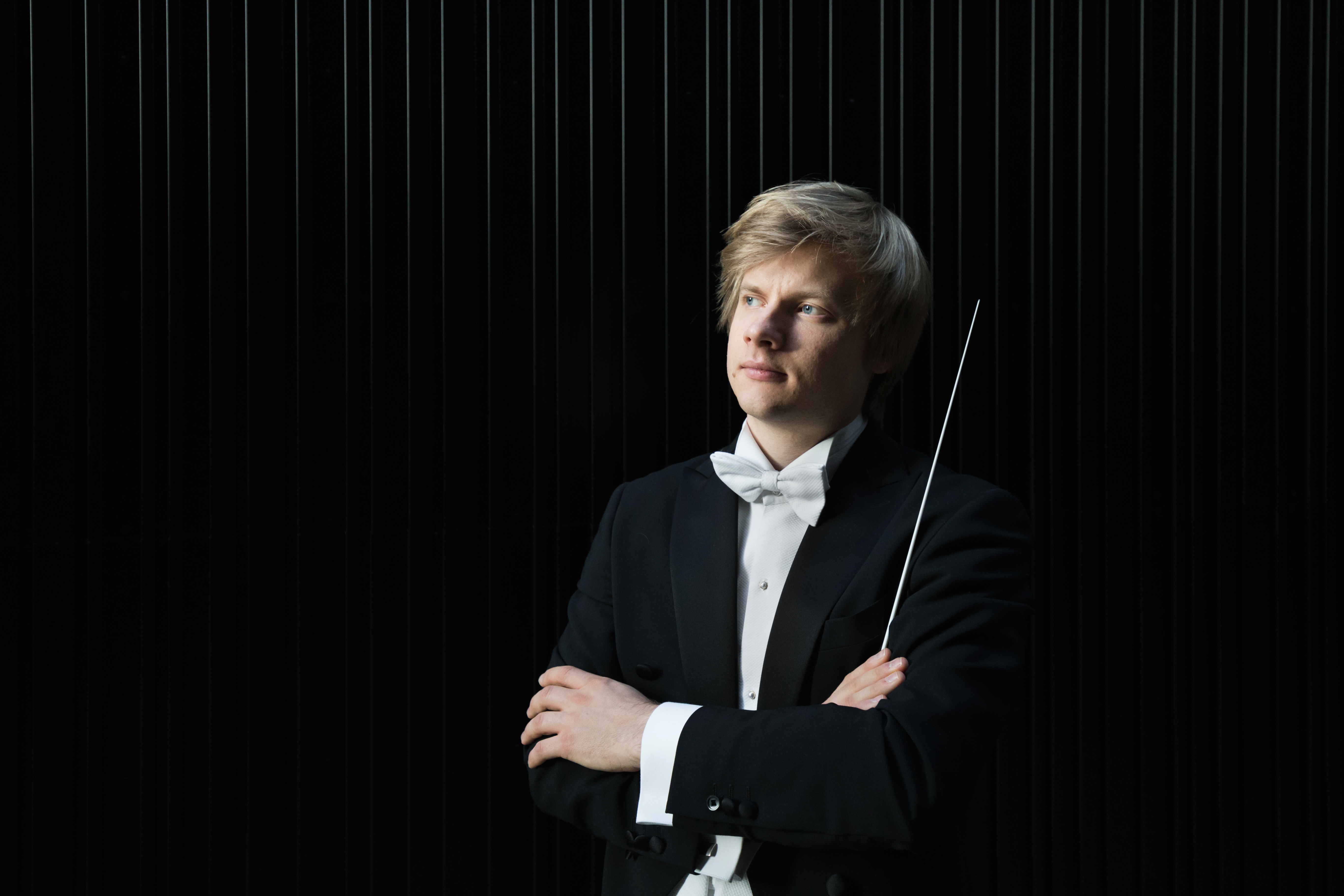 Radosław Droń is a graduate of Karol Lipiński Academy of Music in Wrocław. Together with violinist Jacek Marcinów, he has founded the youth chamber orchestra, Orchestre Chevalier de Saint-George de Pologne, with which he toured France in 2017/2018. In the season of 2017/2018, he served as resident conductor and assistant to the 1st conductor Bartosz Żurakowski at Sudecka Philharmonic in Wałbrzych. In the season of 2018/2019, he worked as an assistant to Adam Klocek and was selected for the second time in the 'Resident-Conductor' programme of the Institute of Music and Dance, as part of which he cooperated with Toruń Symphony Orchestra. He has also performed with the Symphony Orchestra of the Academy of Music in Wrocław, the National Forum of Music Wrocław Philharmonic Orchestra, Lower Silesian Philharmonic Orchestra, Sudecka Philharmonic Orchestra, Kalisz Philharmonic Orchestra, Radom Chamber Orchestra, the Sound Factory Orchestra and the Polish Orchestra of Physicians.
A young Polish saxophonist – he studied at the Conservatoire de Lyon with Jean Denis Michat and at Fryderyk Chopin University of Music in Warsaw with Prof. Paweł Gusnar. He has won several competitions and in September 2016 he won the Eurovision Song Contest for Young Musicians as the Polish representative selected in the 'Young Musician of the Year' Competition. Łukasz is the first saxophonist to win in this competition in the history of this event. He has performed as a soloist with over 15 orchestras from Poland and abroad. He is a holder of scholarships from the Ministry of Culture and National Heritage, the 'Young Poland' Programme of the Ministry of Culture and National Heritage, the Pro Musica Bona Foundation, the Sapere Auso Foundation and the National Fund for Children. He was nominated for 'Polityka' Passports in 2016, in the category 'Classical Music' and for the Coryphaeus of Polish Music award (2016) in the category 'Debut of the Year'.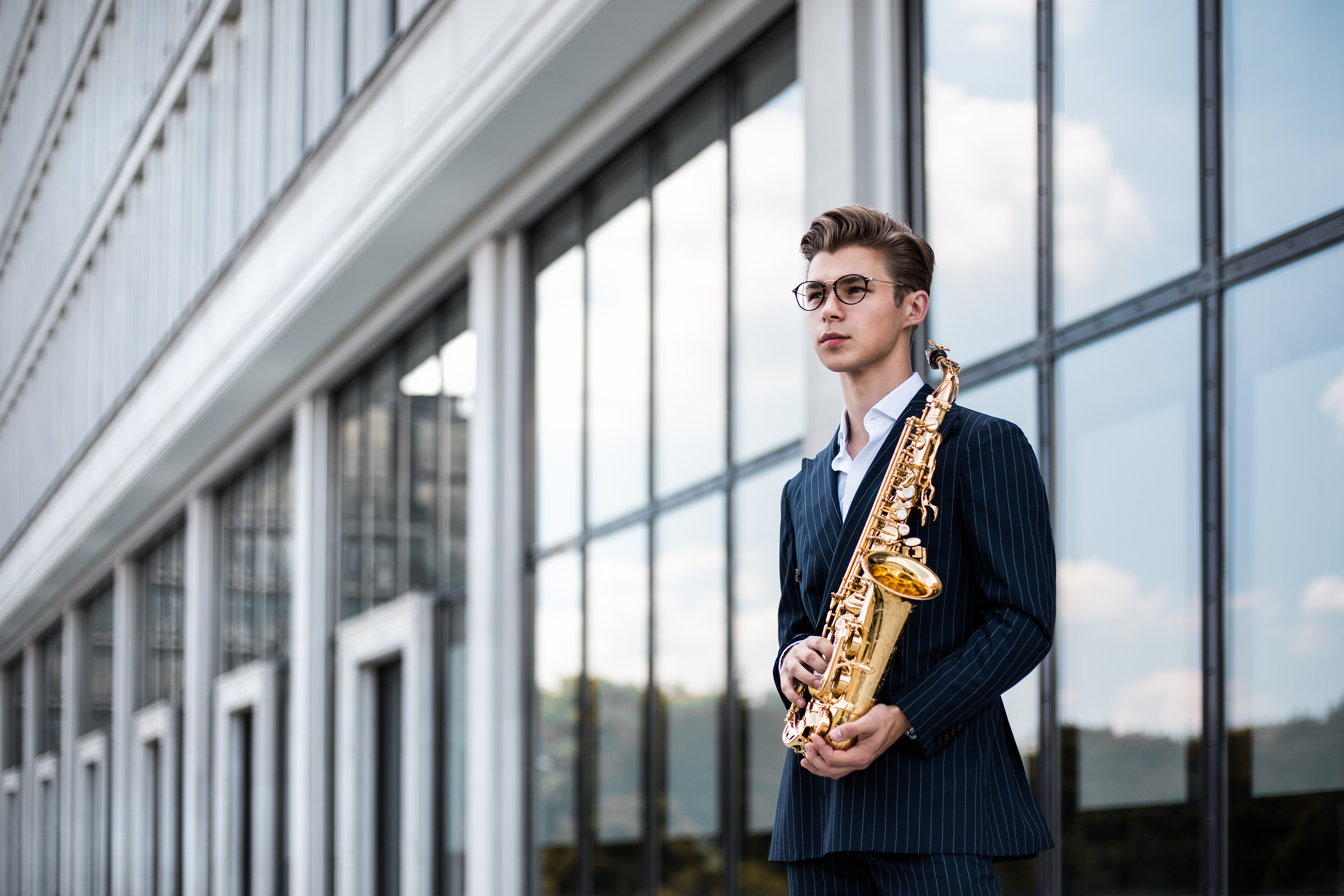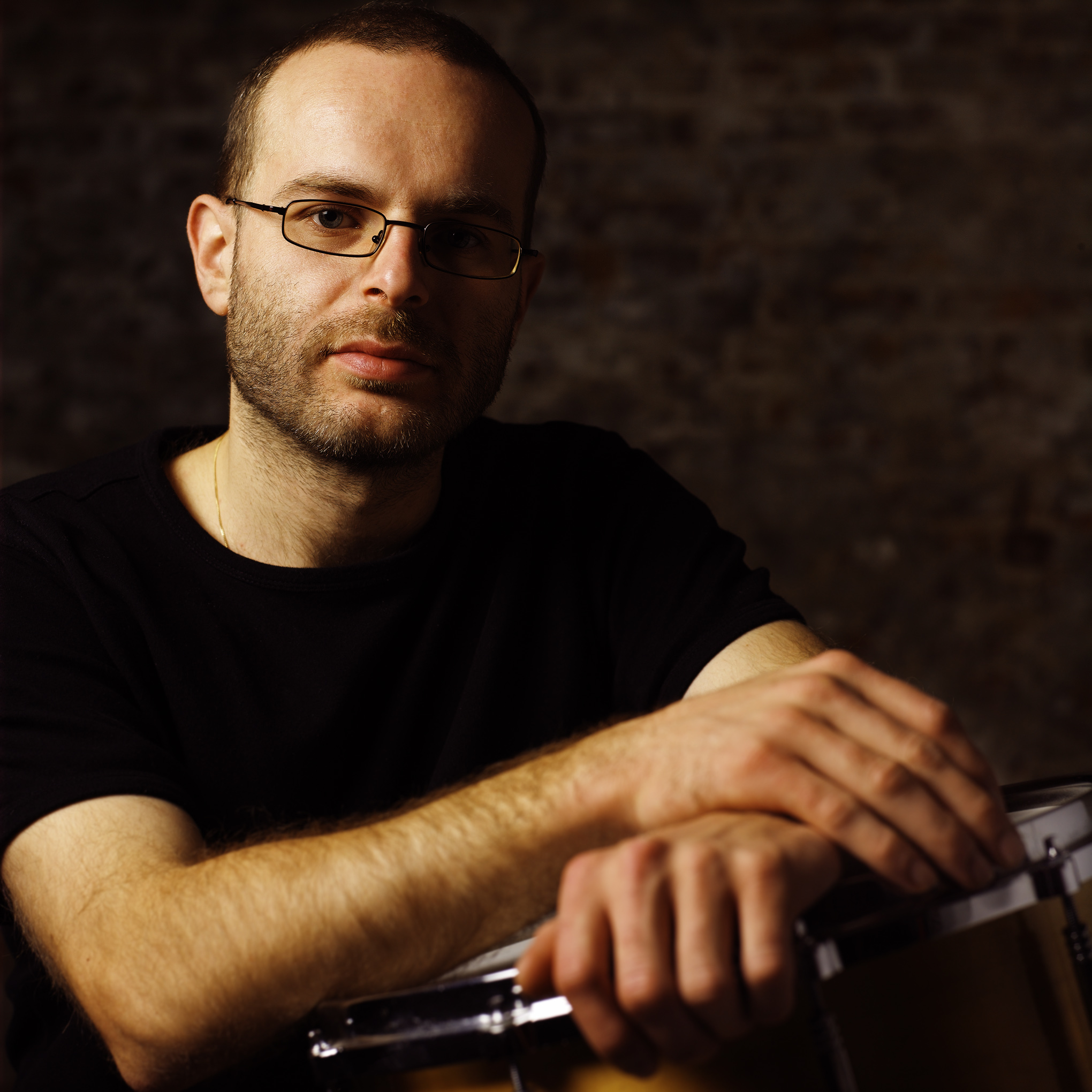 Urodził się w 1969 r. w Bydgoszczy. Edukację muzyczną na instrumentach perkusyjnych rozpoczął w 1983 w Liceum Muzycznym w Bydgoszczy w klasie prof. Janusza Mikołajczaka. Liceum Muzyczne ukończył w 1988 roku z wyróżnieniem. Jest absolwentem Wydziału Jazzu i Muzyki Rozrywkowej Akademii Muzycznej w Katowicach w klasie prof. Stanisława Proksy (studia na tej uczelni w latach 1988 - 1992). Uzyskał tytuł magistra sztuki – specjalizacja w zakresie instrumentów perkusyjnych.
Profesjonalną karierę rozpoczął w Kwintecie Jana "Ptaszyna" Wróblewskiego (1987). Później współpracował m.in. z Garrisonem Fewellem, Nicolasem Simionem, Joachimem Menclem, Piotrem Wojtasikiem (CD pt. "Lonely Town" zostało uznane przez czytelników czasopisma "Jazz Forum" Płytą Roku 1995) , Mieczysławem Szcześniakiem, Kubą Stankiewiczem, Lorą Szafran z zespołem "New Presentation", Karolem Szymanowskim, Brandonem Furmanem i Jackiem Niedzielą, Piotrem Baronem, Zbigniewem Namysłowskim, Tomaszem Stańko, Januszem Muniakiem, Leszkiem Kułakowskim, Krzysztofem Herdzinem, Michałem Kulentym i z wieloma innymi. Z większością z tych wykonawców nagrał ponad 20 płyt dla różnych wytwórni. Grał również z takimi muzykami, jak Mike Minieri, Garrison Fewell, Pete Lockett, Rick Margitza, John Gross, Samuel Torres, Nicolas Simion, Paul Imm, Ed Schuller, Darek Oleszkiewicz, Matus Jakabcic, Volker Greeve, Nipy Noya, Vadim Brodski, Jaromir Honzak, Pavel Wlosok, 0-58, Zbigniew Namysłowski, Maciej Sikała, Piotr Baron, , Tomasz Szukalski, Janusz Muniak, Michał Kulenty, Adam Pierończyk, Leszek Żądło, Ewa Bem, Lora Szafran, Hanna Banaszak, Ewa Uryga, Anna Maria Jopek, Krystyna Stańko, Andrzej Dąbrowski, Janusz Szrom, Tomasz Stańko, Piotr Wojtasik, Grzegorz Nagórski, Henryk Majewski, Robert Majewski, Wojciech Niedziela, Krzysztof Herdzin, Kuba Stankiewicz, Wojciech Majewski, Leszek Kułakowski, Leszek Możdżer, Cezary Paciorek, Marek Napiórkowski, Artur Lesicki, Maciej Grzywacz, Jarosław Śmietana, Jacek NiedzielaTomasz Grabowy, Zbigniew Wrombel, Adam "Szabas" Kowalewski, Piotr Lemańczyk, Karol Szymanowski, Big-Band Wiesława Pieregorólki, All Stars BigBand Złota Tarka.
Brał udział w festiwalach jazzowych w Polsce i za granicą , tj. kilkakrotnie Jazz nad Odrą, Jazz Jamboree, Jazz Standart Festival Siedlce, "Jazz w Muzeum" w Ostrowie Wlkp., Pori Jazz Festival `87 (Finlandia), Istanbul Festival `93 (Turcja), '99 Euro Big Band Matusza Jakabcica (Bratislava, Słowacja), Drumsfuzje (Bydgoszcz, 2007-2009), Międzynarodowy Festiwal Perkusyjny w Krakowie (2009), Zmagania Jazzowe w Szczecinie i in. Grał na prawie wszystkich scenach Polski, również za granicą, np. w słynnych klubach USA – Birdland w Nowym Jorku oraz Blues Alley w Waszyngtonie.
He studied at Fryderyk Chopin University of Music in Warsaw. In the academic year 2011/2012 he continued his studies at the Musik und Kunst Privatuniversität der Stadt in Vienna. He has given concerts as a soloist and chamber musician and with orchestras under such conductors as Zygmunt Rychert, Krzysztof Kozłowski, Maciej Tworek and Sławomir Chrzanowski. He is the first accordionist in history to perform as soloist with the Warsaw Philharmonic Orchestra. He has played concerts in most European countries, the USA, Canada and China. He has performed at the most important festivals connected with contemporary music. An important element of his artistic activity is the cooperation with a group of composers of the young generation. Many years of cooperation have resulted in over 50 premieres of solo and chamber works, as well as larger forms. In 2009, he began working with Roland, a producer of digital accordions.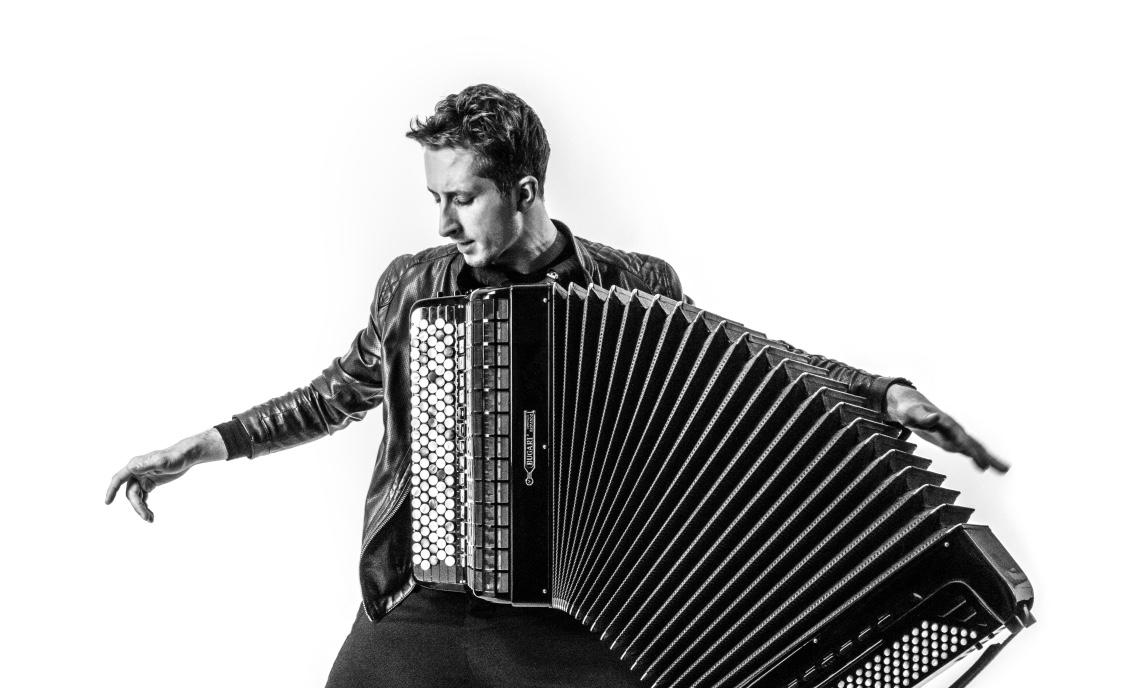 Kinga Politowska - a graduate of the Academy of Music in Bydgoszcz in the violin class of Mariusz Patyra, PhD. Her most important achievements include the 3rd place in the International Violin Competition "Citta di Filadelfia" in Italy (2015), qualifying and participating in the National Project 'Lutoslawski Youth Orchestra' three times (2014, 2015, 2016) and performing twice as a soloist with Toruń Symphony Orchestra. Since 2019, she has been playing in a touring quintet with a renowned violinist Mariusz Patyra. When playing in the orchestra under the baton of Adam Sztaba, she performed during the concerts 'Grzegorz Ciechowski: Spotkanie z Legendą' (2018) (Grzegorz Ciechowski: Meeting the Legend), 'Życia Mała Garść' (2019) (A Handful of life) and 'One Light Festival' (2019).
Anna Morawska - a graduate from Karol Szymanowski Complex of Music Schools in Toruń and Feliks Nowowiejski Academy of Music in Bydgoszcz in viola class of Jadwiga Stanek, PhD. She debuted on stage as a soloist in a concert of the 'Young Virtuosos' series performing with Toruń Symphony Orchestra. She has taken part in numerous solo, chamber and symphony concerts both in Poland and Europe. She is a 2nd prize winner in the solo category in the 2° Concorso Internazionale di Esecuzione Musicale Citta di Sarzana, and the 3rd prize winner in the solo category in the 17° Concorso Internazionale di Musica 'Don Vincenzo Vitti' si svolgera a Castellana Grotte.
Alan Balcerowski - a graduate from Feliks Nowowiejski Academy of Music in Bydgoszcz in saxophone class of Maciej Sikała. He continues education at his Alma Mater, with jazz flute as a specialisation, as well as at Ignacy Jan Paderewski Academy of Music in Poznań, specializing in composition and arrangement. He plays the soprano, alto and tenor saxophones, as well as the transverse flutes and clarinets. He has played at various festivals including Old Jazz Meeting Złota Tarka, Zakopiańska Wiosna Jazzowa, Bydgoszcz Jazz Festival, Toffifest - International Film Festival.
Sara Kosętka - a student of the Academy of Music in Bydgoszcz, majoring in jazz piano. She has cooperated with the Pomeranian Philharmonic in Bydgoszcz, Toruń Symphony Orchestra, Municipal Centre of Culture in Bydgoszcz, Toruń Music Theatre. She has cooperated with singers from Bydgoszcz and Toruń area. Sara Kosętka is a co-founder of Marta Rubik quintet, which received a distinction at the competition in Lubaczów. She is also a piano teacher at the Foundation of Creative Education and Rhythm academy in Bydgoszcz. She has co-founded a duo that performs Christian music in original arrangements.
A young opera soloist and a rising singer. In just a few years, she has charmingly played various roles and made her début at the Lithuanian National Opera and Ballet Theatre and the State Musical Theatres in Klaipeda and Kaunas... Ieva Barbora gives concerts in Lithuania and promotes our country abroad. The young singer is a finalist of international competitions and participates in international classical music festivals. We can also see her in music television shows and at concerts with IL SENSO, a quartet of young opera singers which is quickly gaining popularity.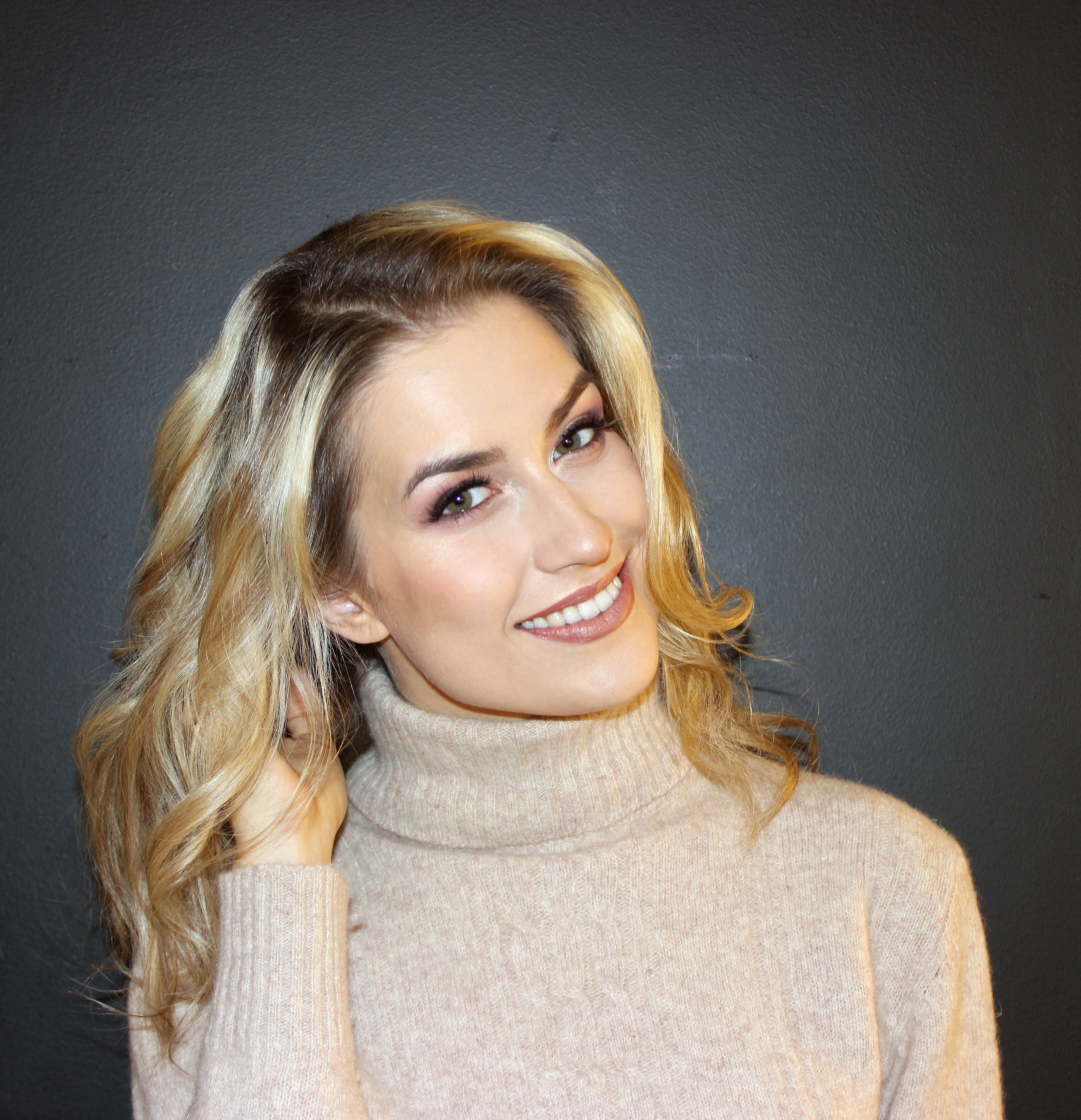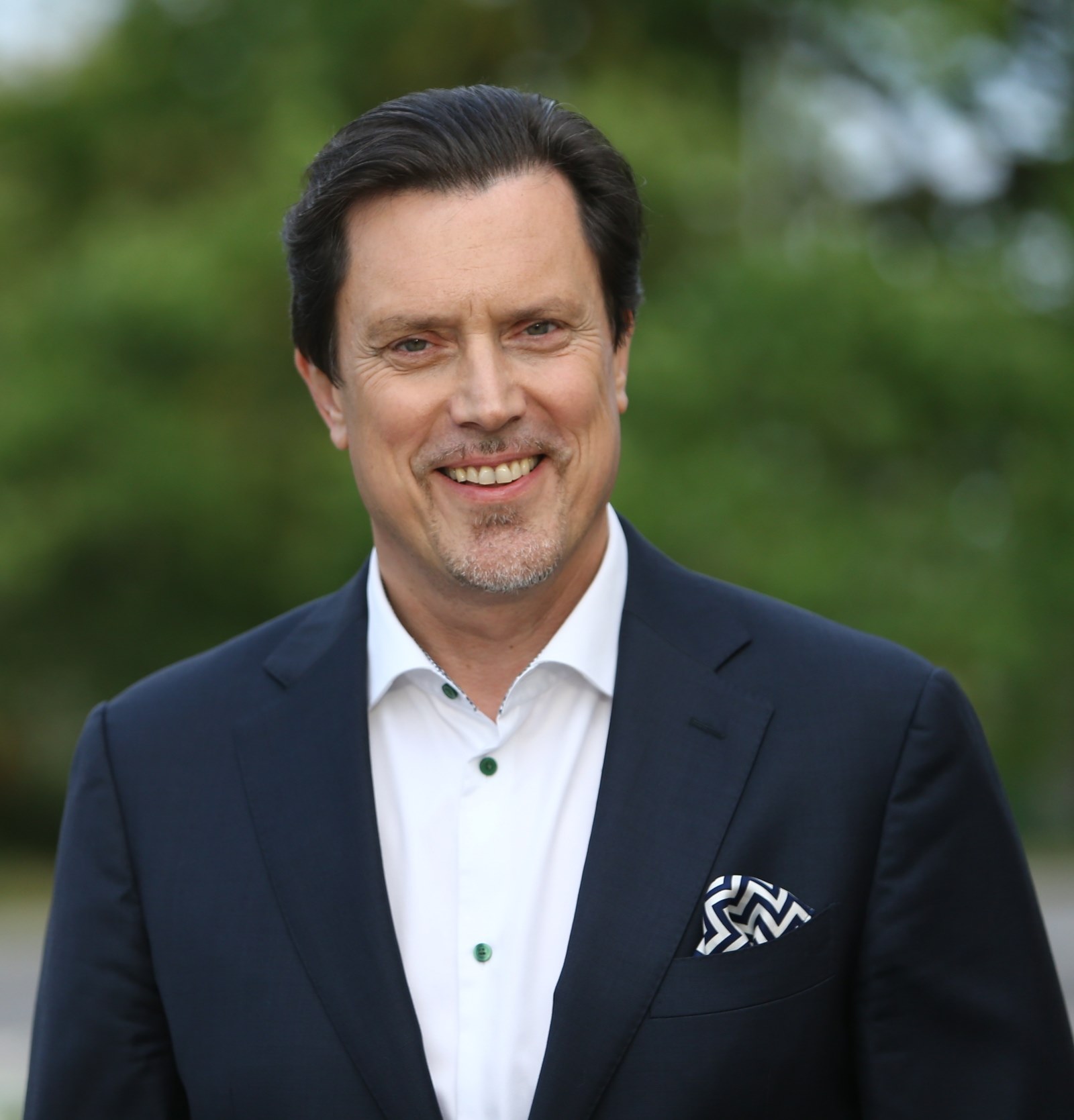 A graduate of the Lithuanian Academy of Music in 1989, he has worked at the Lithuanian National Opera and Ballet Theatre since 1990. In 1992-1993 he studied at the European Centre for Opera and Voice Art in Belgium and with Marlena Malas in New York. He became a laureate of the Competition of Young Singers of Lithuania (1992) and a finalist at the International Luciano Pavarotti Competition in the USA (1992). His other artistic distinctions include the Christopher Prize; awarded by Lithuanian Theatre Association in 1999,; publics Favorite Prize in 2003; the Officers Cross of the Order "For Merits to Lithuania"(2003) and Lithuanian National Award ; the same year he was also awarded the "Golden disk" Prize of the Lithuanian Musicians Association and awarded the "Kipras " Prize as The Best Singer Of the Year 2003 of Lithuania. In 2006 Mr. Juozapaitis was awarded the "Golden Cross of the stage" by Lithuanian ministry of culture. "Beacons of Opera" prize for the Best Opera Soloist of the Year in 2002, 2007and 2009. Honor Mark of the Ministry of Culture 2013.
His repertoire includes more than 50 roles: Germont (La Traviata), Figaro (Il Barbiere di Siviglia), Wolfram (Tannhäuser), Guglielmo (Cosi fan tutte), Don Alvaro (Il viaggio a Reims), Arnoldo (I Lituani), Valentin (Faust), Don Carlo di Vargas (La forza del destino), di Posa (Don Carlo), Gerard (Andrea Schenier), Don Giovanni (Don Giovanni), Escamillo (Carmen), Gianni Schichi (Gianni Schichi), Udrys (Pilenai),Amonasro (Aida), Enrico (Lucia di Lammermoor), Ypsheim (Wiener Blut), Scarpia (Tosca), Ping (Turandot), Yeletsky (The Queen of Spades), Renato (Un Ballo in Maschera), Rigoletto (Rigoletto), Sharpless (Madam Butterfly), Il Conte (La Nozze di Figaro), Delaura (Love and other Demons), Eugen Onegin and others.
Bartosz Kołsut (Face2Face)
In 2015, Bartosz Kołsut graduated from Music School Complex of Oskar Kolbergin Radom in the accordion class of Artur Miedziński. In 2018, he graduated from Fryderyk Chopin University of Music in Warsaw, in the accordion class of Prof. Klaudiusz Baran. He honed his skills at the Hochschule fur Musik in Detmold. He is currently a student at Folkwang Universität der Künste in Essen. His talent and skills have been recognised at festivals and major music competitions in many countries around the world. In 2014, he won the title of 'Young Musician of the Year' in a competition organised by Polish Television and the Ministry of Culture and National Heritage. In the same year he represented Poland at the 'Eurovision Young Musicans' Competition in Cologne, Germany, where he performed with the West Deutsche Rundfunk Symphony Orchestra as a finalist. Bartosz Kołsut achieved a spectacular success by performing twice in Carnegie Hall in New York. He is most successful in prestigious international masterclasses in solo and chamber music.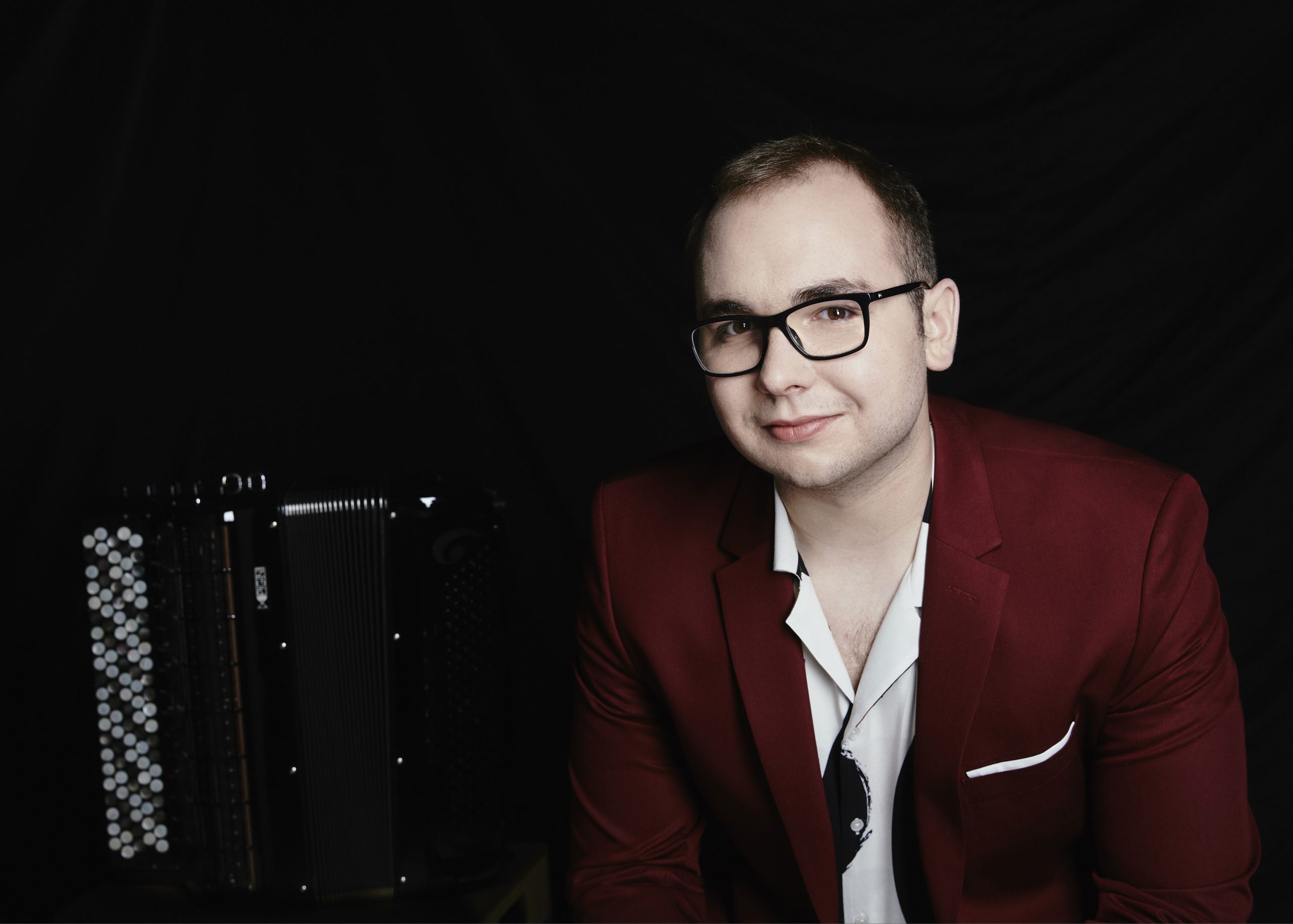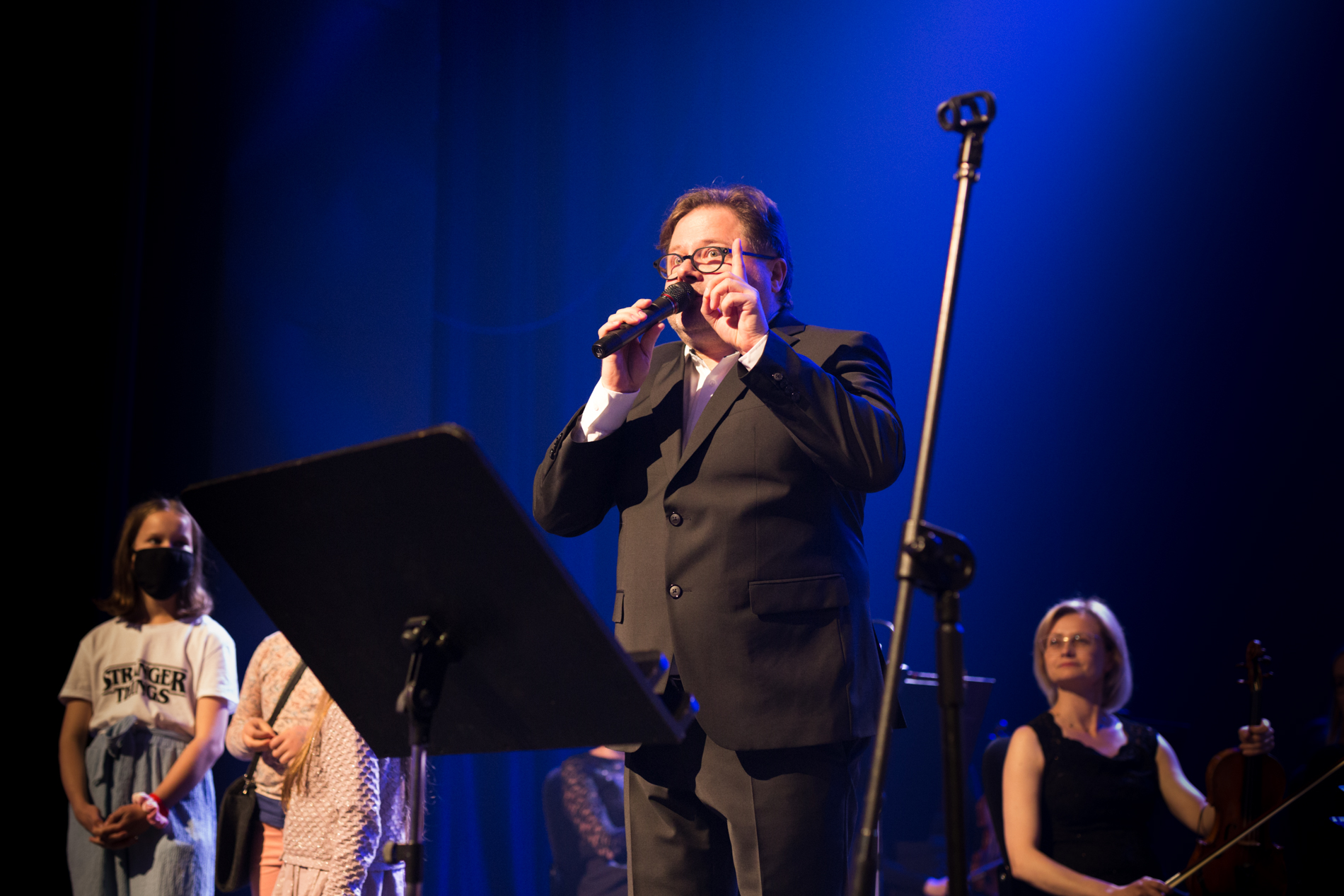 A graduate of I.J. Paderewski Academy of Music in Poznań at the Faculty of Jazz and Popular Music in the singing class (2017). Since 2000 he has been associated with Roma Musical Theatre in Warsaw. He is a session singer who has recorded and collaborated with such artists as: Irena Santor, Ewa Bem, Maryla Rodowicz, Ryszard Rynkowski, Andrzej Zaucha, Zbigniew Wodecki, etc. He has sung on many television shows. A multiple participant of the biggest Polish festivals of popular music (Opole, Sopot, Top Trendy etc). Since 2016 he has held the position of vocal coach for soloists at Roma Musical Theatre.
She graduated with honours from the Faculty of Vocal Performance and Acting of F. Chopin University of Music in Warsaw. She debuted with the role of Christine Daae in the musical 'Phantom of the Opera' at Roma Musical Theatre. For several years she has been playing this role again on the stage of Podlaska Opera and Orchestra in Białystok. She cooperates with the 'Rozrywka' Theatre in Chorzów, the Musical Theatre in Gliwice, the Musical Theatre in Poznań, and the Roma Theatre. She collaborates with Zbigniew Preisner, and has performed his works under the baton of the composer himself at the Megaron Concert Hall in Athens. She works as a dubbing vocalist cooperating with SDI Media in a dubbing team. She is a lecturer specialising in the musical at the Academy of Music in Poznań.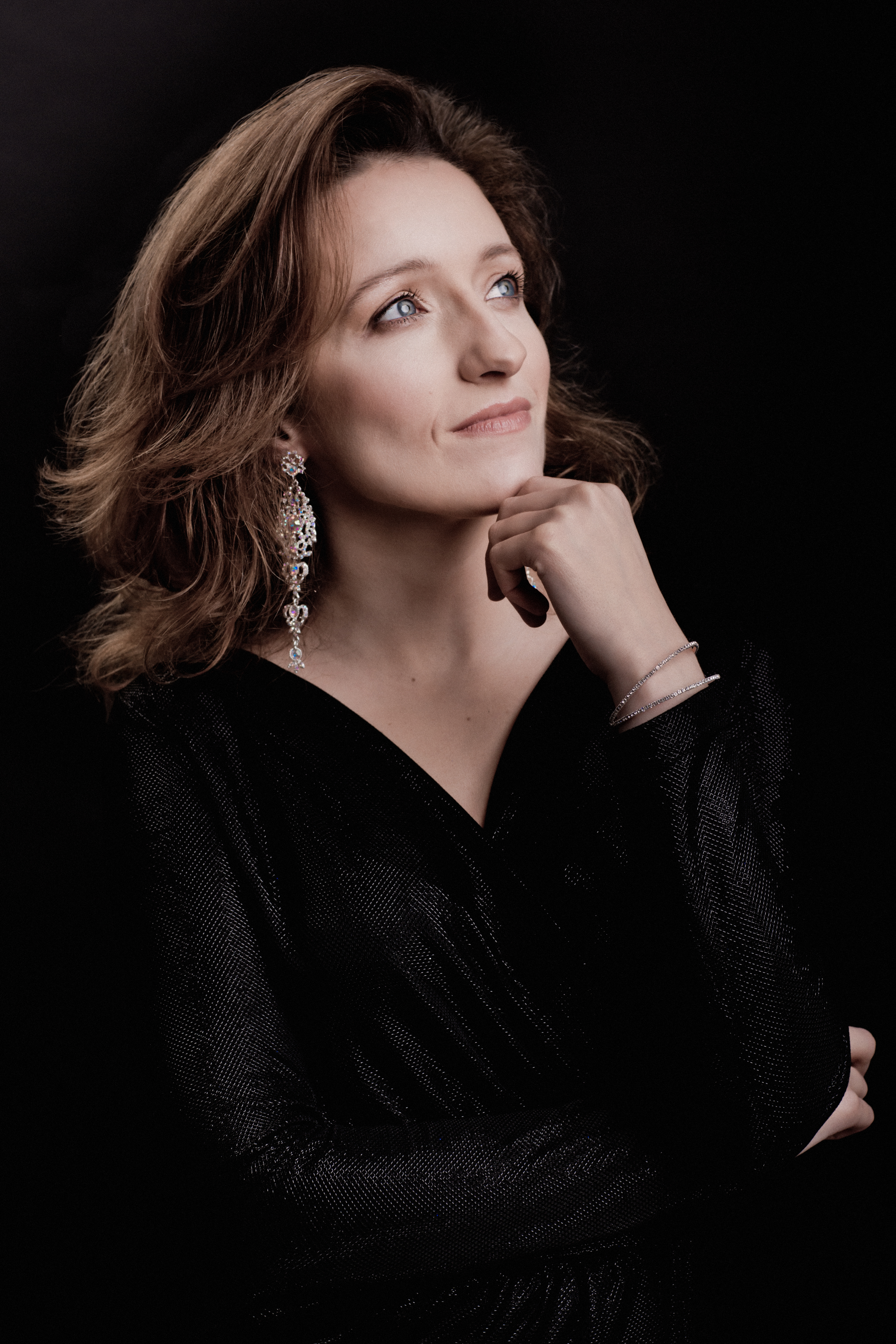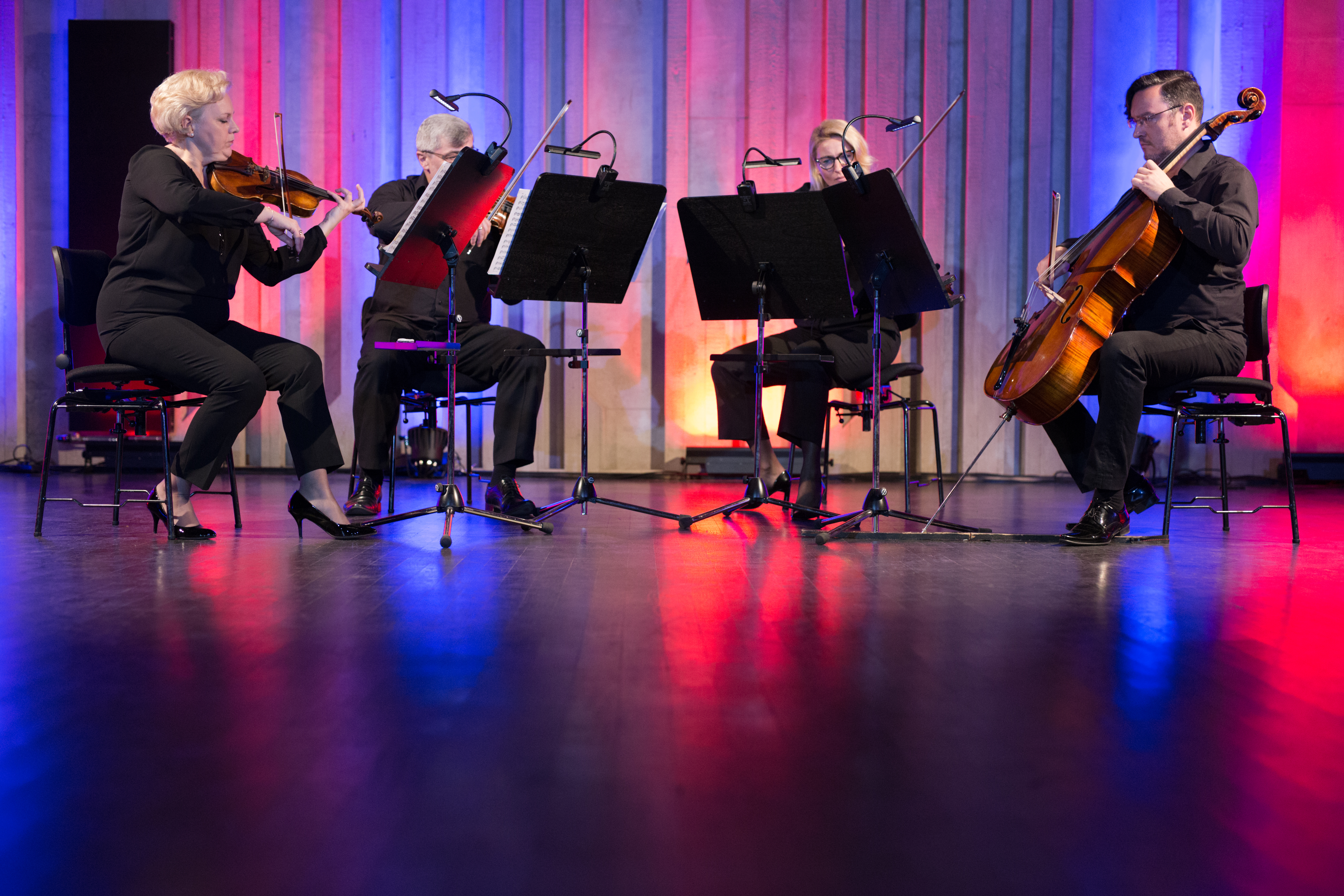 Kwartet Smyczkowy TOS powstał z inicjatywy czołowych muzyków Toruńskiej Orkiestry Symfonicznej w 2004 roku i działa w składzie:
Izabela Bogusz – I skrzypce (koncertmistrz TOS),

Grzegorz Bogusz – II skrzypce,

Marta Wroniszewska – altówka,

Karol Wroniszewski – wiolonczela (koncertmistrz TOS).
Pierwszy oficjalny koncert zespołu odbył się w toruńskim Dworze Artusa (2005) i został entuzjastycznie przyjęty przez słuchaczy oraz krytykę. Wspólna działalność muzyków zaowocowała kolejnymi występami oraz nagraniem płyty "Romantycznie", na której znalazł się zbiór najbardziej znanych i lubianych miniatur. Repertuar kwartetu jest bardzo bogaty i nieustannie poszerzany. Obejmuje utwory kompozytorów różnych epok od baroku do współczesności.
Podstawą programów koncertowych zespołu są dzieła światowej literatury kameralnej oraz polskiej muzyki współczesnej, jednak muzycy ze szczególną przyjemnością prezentują liczne aranżacje muzyki popularnej i filmowej. Kwartet TOS regularnie koncertuje i uczestniczy w międzynarodowych festiwalach: "Międzynarodowy Festiwal Europa - Toruń Muzyka i Architektura", Międzynarodowy Festiwal "Muzyka w Katedrze" w Kołobrzegu, "Międzynarodowy Festiwal Organowy w Pelplinie", Festiwal "Gaude Mater" w Częstochowie, "Bydgoskie Lato Artystyczne", "Czwartkowe Wieczory" w Sopocie, "Wieczory Kameralne" w Kielcach, "Muzyka w Świetle Księżyca" w Lubostroniu oraz festiwale w Puławach, Chełmnie, Nakle nad Notecią, Koronowie i Ostromecku.
Kwartet Smyczkowy TOS realizując własne plany artystyczne współpracuje z solistami: (pianiści - T. Gumiela, A. Mozgiel, P. Wakarecy, klawesyniści - N. Bartyzel, A. Czuraj, M. Hoga, K. Kamińska, B. Wezner, D. Zimna, G. Grubba (organy), M. Gołębiowski (klarnet) oraz zespołami - Quartor Europa .Od jesieni 2009 roku muzycy współpracują także z kontrabasistą i dyrektorem festiwalu "Probaltica"- Henrykiem Gizą, współtworząc skład zespołu Multicamerata. W ramach tej działalności koncertowali w kraju i poza granicami: Niemcy, Holandia, Francja, Szwecja, Estonia, Szkocja, Anglia, Słowenia. Występowali m.in. z: I. Shoeps, A. Sincovec, W. Waleczek oraz Gotlands Blasarkvintett. Dokonali nagrań dla radia i telewizji, uczestniczyli w projektach "Orzeł" i "Chopin 2010" pod patronatem Ministra Kultury i Dziedzictwa Narodowego, współpracowali z kompozytorami: M. Cynk-Mikołajewska, P. Moss, Peter van Tour, brali udział w prawykonaniach światowych.
W 2011 roku Kwartet Smyczkowy TOS zagrał kilkadziesiąt koncertów w ramach projektu "Ochrona i zachowanie materialnego dziedzictwa regionu kujawsko-pomorskiego", uświetnił jubileusz 760-lecia miasta Chełmży oraz Galę Nagród Marszałka woj. kujawsko-pomorskiego. W 2012 roku wzbogacił formę jubileuszowej edycji 20. Międzynarodowego Konkursu Pianistycznego im. F. Chopina dla Dzieci i Młodzieży w Szafarni (koncerty finałowe z uczestnikami i laureatami konkursu). Do chwili obecnej Kwartet Smyczkowy TOS zagrał łącznie kilkaset koncertów, promując województwo kujawsko-pomorskie, miasto Toruń oraz Toruńską Orkiestrę Symfoniczną.
A singer, dancer, music producer, voice coach. A woman with passion, talent and vision. She creates performances, records albums, gives concerts all over the world, draws inspiration from Spanish and Balkan music. The artist's unusual style is the result of her conscious exposure to the influence of various musical genres. She received vocal training from the best teachers in England and the United States. In 2010, she went on a trip to Venezuela with a 'Dzień Dobry TVN' camera and prepared a series of reports on the culture and music of this country.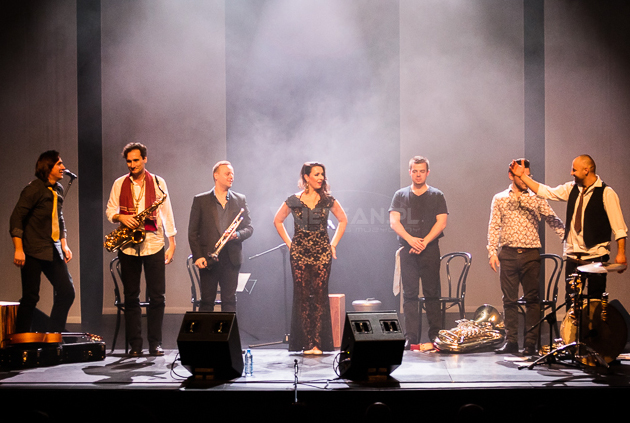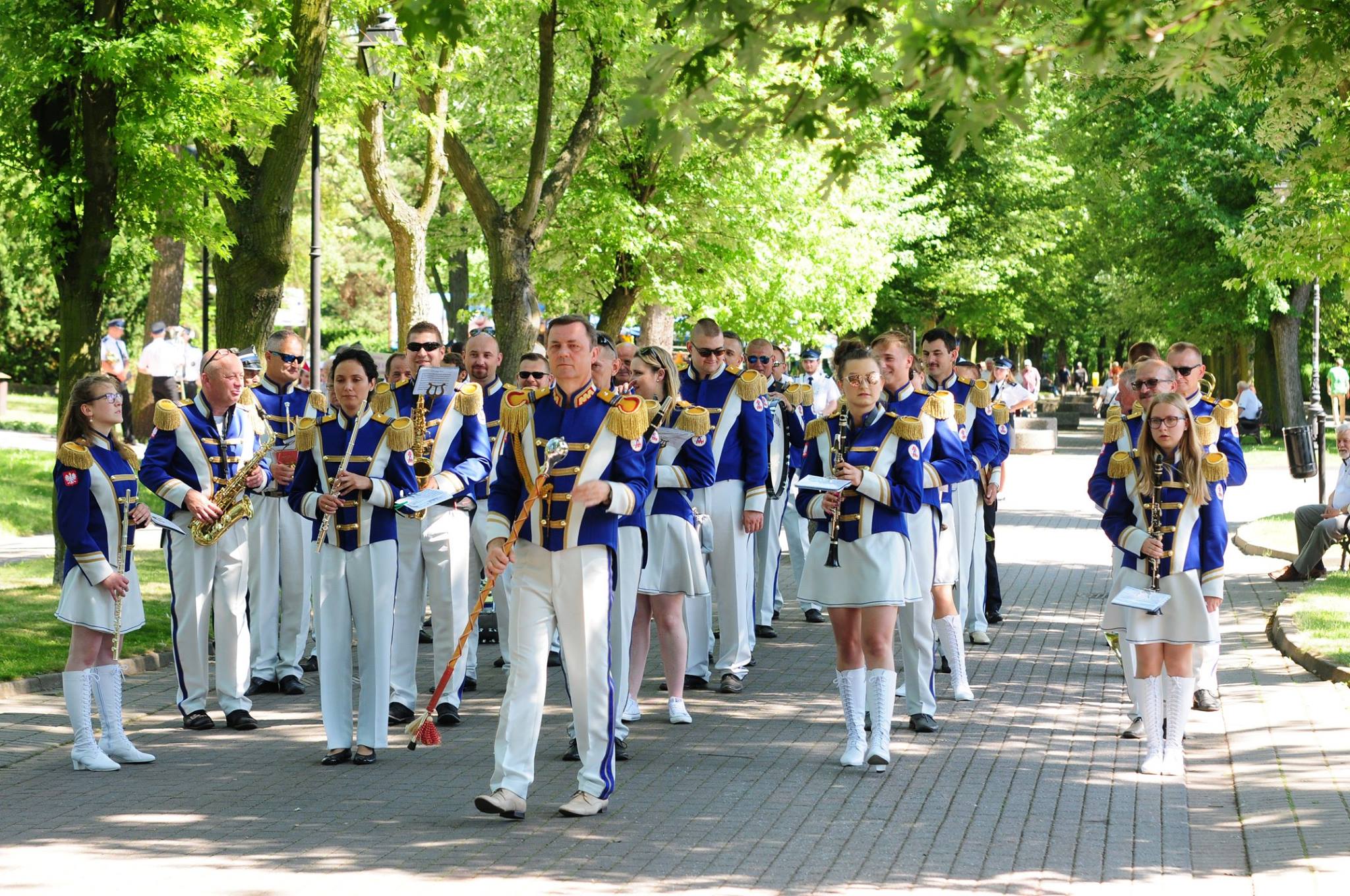 The Fire Brigade Brass Orchestra in Aleksandrów Kujawski
The Fire Brigade Brass Orchestra in Aleksandrów Kujawski was founded in 1909 and continues to play today.
In the 1970s and 1980s, the orchestra was regularly awarded prizes at provincial and regional orchestra reviews. A few years ago, thanks to a new association and musical leadership, the orchestra completely changed not only its repertoire but also its stage image, implemented new and unconventional projects, and continued winning competition awards. In 2019, the orchestra successfully performed in the 12th edition of 'Got Talent', and last year it carried out an online project entitled 'Brass Orchestra – The Rest of the World'.
Orchestra of the Chevalier de Saint-George
The Orchestra of the Chevalier de Saint-George was established to perform a series of concerts in late 2017 and early 2018 for the association 'Le Concert de Monsieur de Saint-George' in Paris. The concerts in Paris and Île-de-France led to an invitation to perform more concerts in the French capital and the release of a live album during the orchestra's world debut. The orchestra has also performed in Poland, each time with exceptionally talented musicians of the young generation. During its debut tour, the orchestra members included students of secondary music schools, students of academies and graduates of secondary music schools. The orchestra's art director is Jacek Marcinów, and Radosław Droń is the conductor.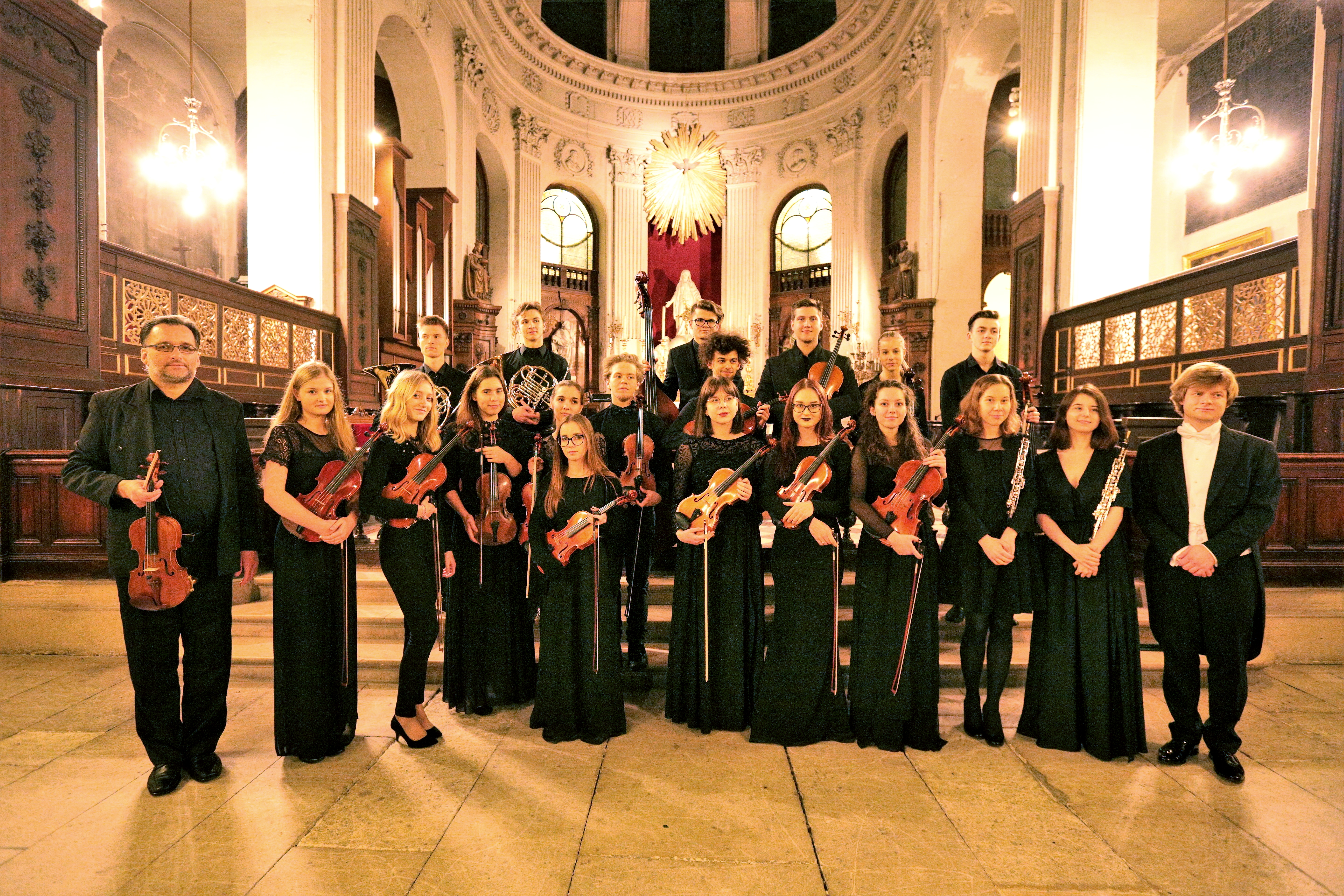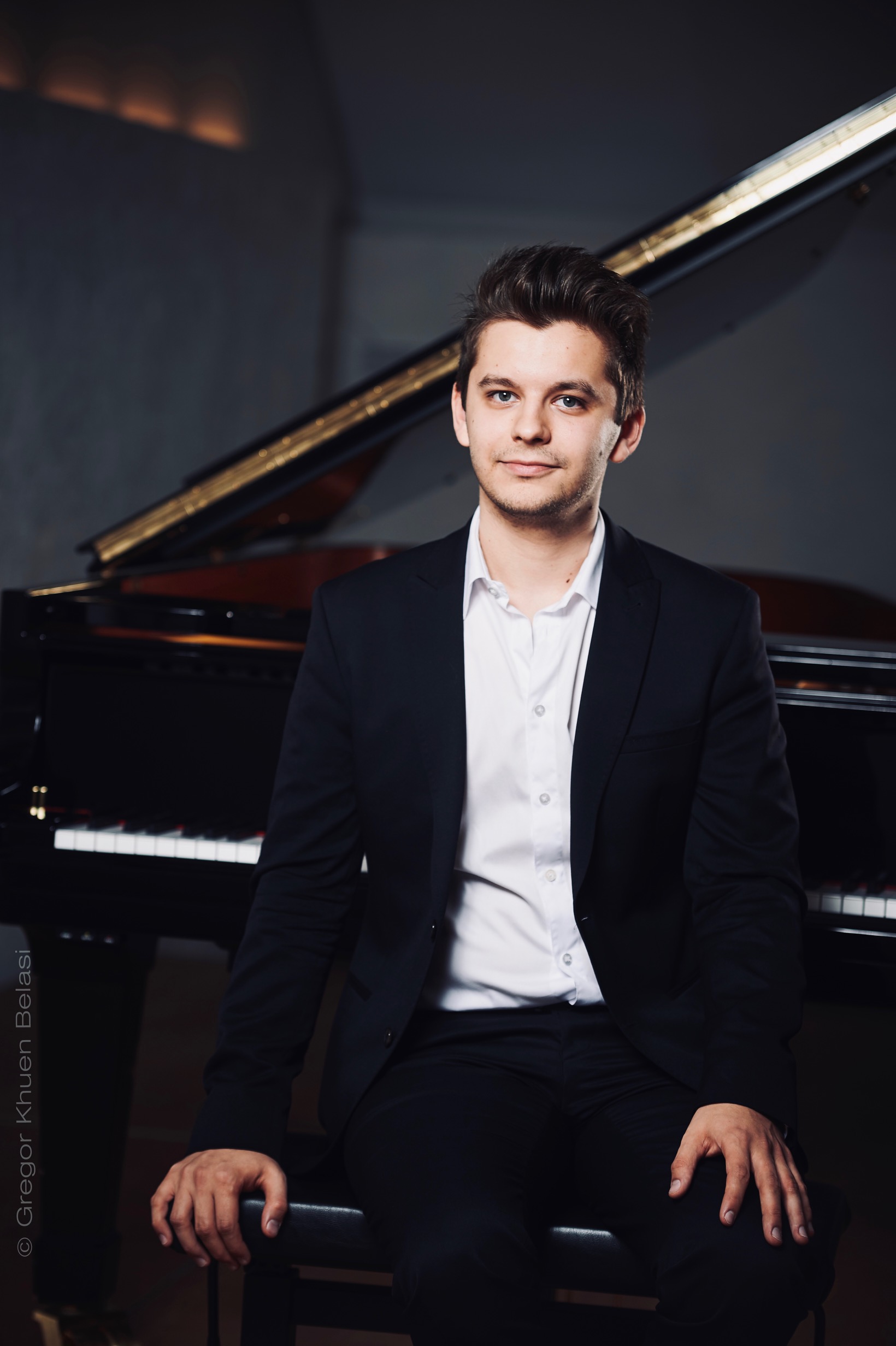 Graduated from Ludomir Różycki State Music School in Kielce and Karol Szymanowski Academy of Music in Katowice. Currently he is a student of piano under Prof. Ewa Pobłocka at the Academy of Music in Bydgoszcz. He is a laureate of national and international piano competitions. In 2016 he was the winner of the 47th Fryderyk Chopin National Piano Competition in Katowice, during which he also won special prizes. In 2018, he won the International Piano Competition in Livorno. That same year, he became the winner of the main Piano Academy Eppan prize – "The Arturo Benedetti Michelangeli Prize" (Italy), and a semi-finalist of the 1st International Chopin Competition on historical instruments. In 2019, at the 11th I. J. Paderewski International Piano Competition he won the second prize.
Born in September 7, 1977. He has been studying choir conducting at the Kaunas Juozas Gruodis Conservatoire since 1992. In 1996 entered the Lithuanian Academy of Music and Theatre where studied choir conducting with professor Povilas Gylys. Continued studying symphony orchestra and opera conducting with professor Juozas Domarkas. Graduated the Academy in 2006 and gained Master of Music (MA) degree.
The musical society took early notice of him: he has been invited to conduct two major symphony orchestras in Vilnius – the Lithuanian National Symphony and the Lithuanian State Symphony Orchestras When graduated from the Lithuanian Academy of Music and Theatre in 2006, Dainius Pavilionis was invited to teach in his alma mater at the Department of Conducting. Since 2006 years he is the second conductor of The Guard of Honour Orchestra of the Lithuanian Army. Since 2010 years until 2015 years he was the Principal conductor of the Klaipeda State Musical Theatre. Since 2017 he is the Head of Symphony Conducting Department at Lithuanian Academy of Music and Theatre in Vilnius.
In October of 2006 he became the 3rd prizewinner at the 4th Witold Lutoslawsky International Competition for Young Conductors in Białystok (Poland).
In the year 2007 Dainius Pavilionis in the famous G. Fitelberg 8th International competition for conductors has been granted with the 6th prize.
The conductor gets invitations to conduct of different symphony orchestras in Poland, Portugal, Italy, Belarus.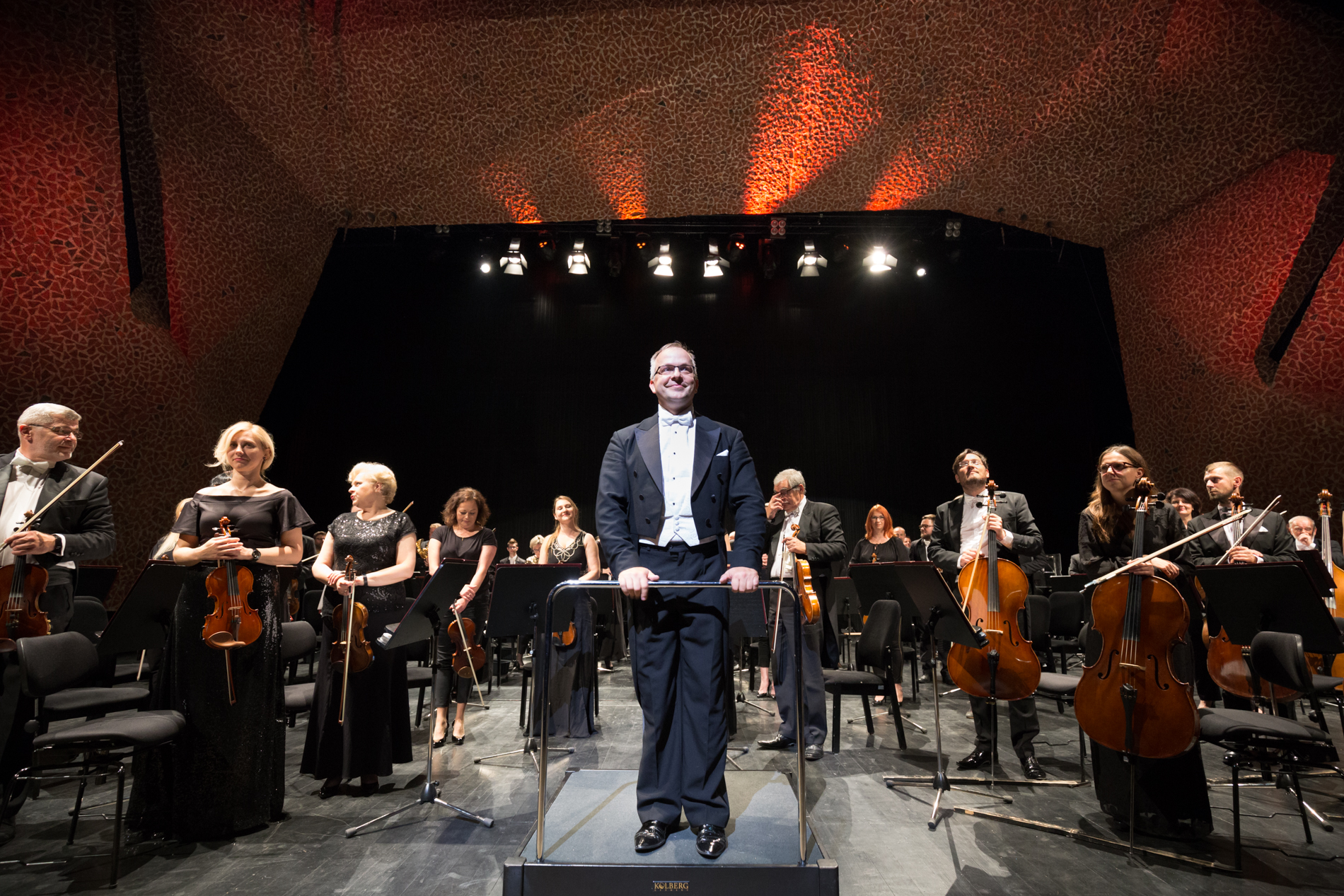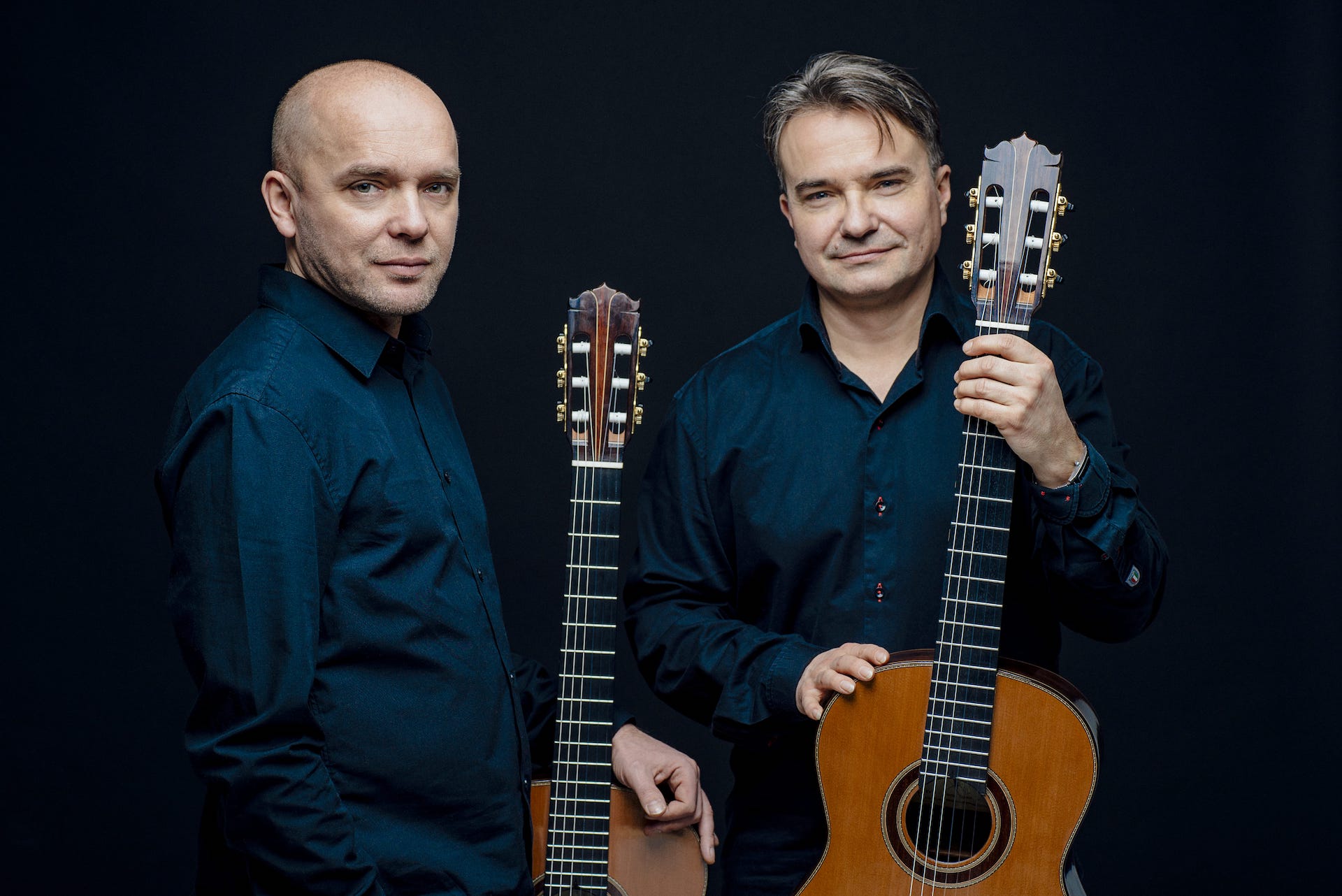 Krzysztof Pełech and Robert Horna – Horna Duo is a combination of unique arrangements in the style of samba, bossa nova, tango and improvised smooth-jazz. It is the richness of beautiful melodies, harmony and rhythm.
Krzysztof Pełech is an outstanding musician, three times chosen the best Polish classical guitarist by 'Gitara i Bas' magazine. He is the art director of Wrocław Guitar Festival GITARA +/ Guitar Masters and the Summer Guitar Course in Krzyżowa. Since 2005 he has been teaching guitar at the Music Academy in Bydgoszcz, where he received his PhD in Arts. He has collaborated with leading Polish orchestras, as well as with the Berlin Festival Orchestra. The artist has performed in almost all European countries, in the USA, Brazil, South Africa, as well as in Egypt, Singapore, Indonesia, Malaysia, Argentina and Chile.
Robert Horna is a laureate of many national and international guitar competitions. He actively performs in Poland, Switzerland, Romania, Moldova, Germany, Belgium, the Netherlands and South America. He gives recitals at many prestigious music festivals in Poland and abroad, where he is regularly invited to give master classes. He is a versatile artist who performs in chamber ensembles, in concerts accompanied by orchestras and in solo recitals.
She is the winner of the International Violin Competition Dinu Lipatti in 2019. In 2015 Pohjola was awarded the first prize in the Kuopio violin competition. Prior to that, she was within the top five in the Sibelius Academy's Anja Ignatius violin competition in 2013 and won the international Young Musician Competition in Estonia in 2009. Moreover, Pohjola has been awarded twice with second prize in the Juhani Heinonen violin competition in Jyväskylä – first in the category of junior competitors in 2009 and then in the seniors in 2012. Pohjola has performed as a soloist for instance with the Finnish Radio Symphony Orchestra, Tapiola Sinfonietta, Kuopio and Hyvinkää city orchestras, Ostrobothnian Chamber Orchestra and Pori Sinfonietta. She has performed with renown musicians, such as Miriam Fried, Hagai Shaham, Krzysztof Chorzelski, Sakari Oramo and Ralf Gothoni. She has performed in many international chamber music festivals such as Kuhmo Chamber Music Festival, International Music Seminar Prussia Cove and Mantova Chamber Music Festival. Tami Pohjola begun the violin studies at the age of three, first with Grazyna Zeranska-Gebert and then with Reka Szilvay at Sibelius Academy. Currently she's studying at the Hochschule für Musik und Theater in Munich with Mi-kyung Lee. She has also attended master-classes by Ana Chumachenko, Hagai Shaham, Mihaela Martin and Gerhard Schulz, to name a few. Furthermore, Pohjola was a member of the Violin Academy in Finland, in which her teachers were Janne Malmivaara, Elina Vähälä and Ilja Grubert. Tami Pohjola plays a Giovanni Battista Guadagnini 1754, kindly on loan by the Finnish Cultural Foundation.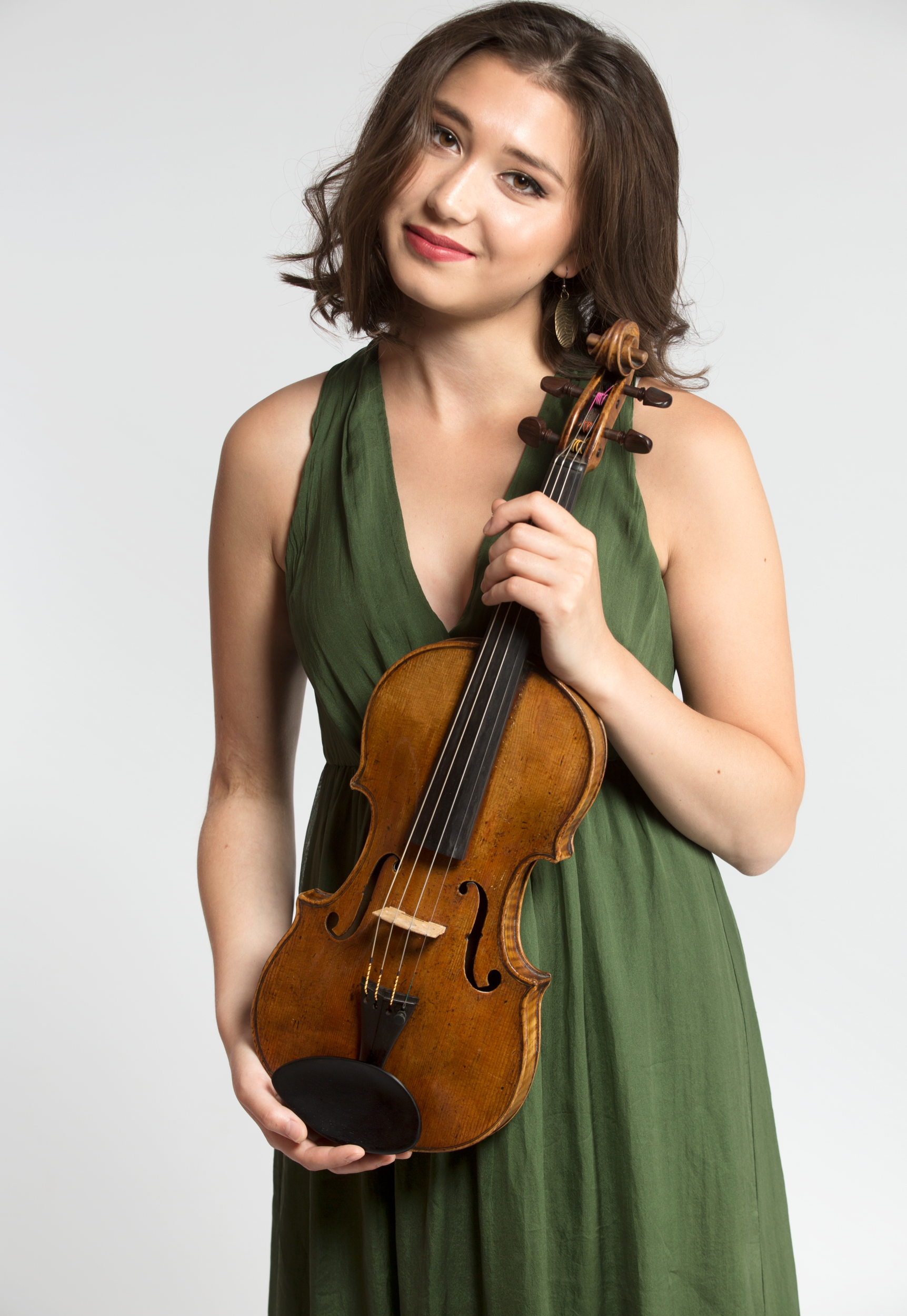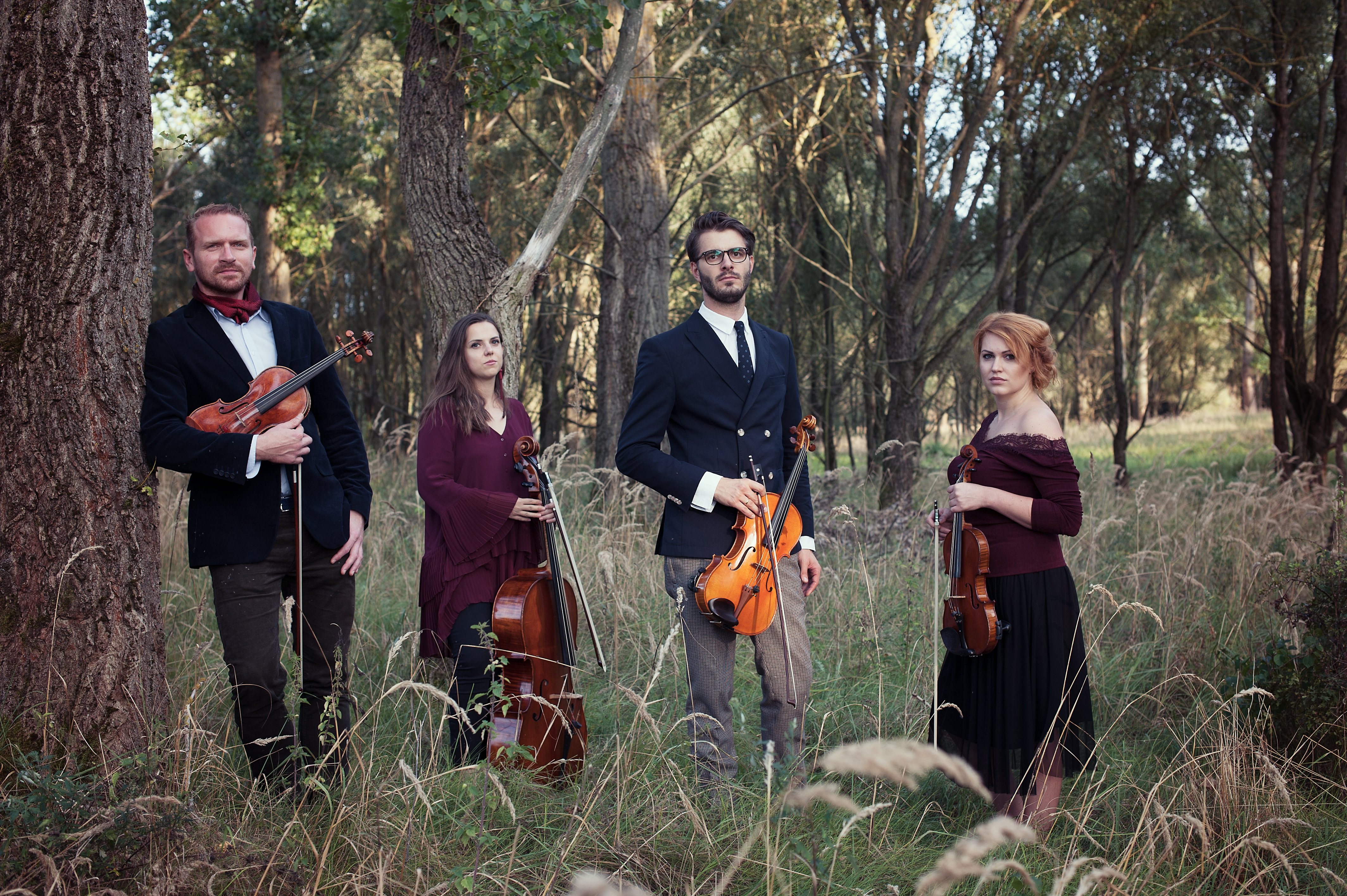 Raffa Quartet was formed in 2013 and it is composed of musicians associated with Toruń Symphony Orchestra and Opera Nova Orchestra from Bydgoszcz. In their repertoire, the artists draw both on works of classics of the genre and contemporary compositions, constantly looking for interesting sound solutions. In 2016, the artists received an Arts Scholarship of the Bydgoszcz City Mayor.
Wojciech Rodek obtained a degree in conducting from the Academy of Music in Wrocław, where he made his debut in 2000 with the Symphony Orchestra of the Academy. He also graduated in Slavonic Philology from Wrocław University. He studied at the Pushkin Russian Language Institute in Moscow. In 2005, he won a competition for the post of Antoni Wit's assistant at the National Philharmonic in Warsaw. He teaches conducting at the Academy of Music in Wrocław. He holds the Doctor of Arts title. In 2015 he was awarded the "Zasłużony Kulturze-Gloria Artis" medal. Since 2005 he has been associated with the Lublin Philharmonic as a conductor and art director. Wojciech Rodek has prepared premieres for the Theatre Montansier in Versailles, the 'Capitol' Music Theatre in Wrocław, the 'Wratislavia Cantans' festival, Gliwice Music Theatre, the Grand Theatre - National Opera, the Grand Theatre in Łódź. He cooperates with Wrocław Opera. He has performed in the most important concert halls in Europe and China and taken part in renowned festivals.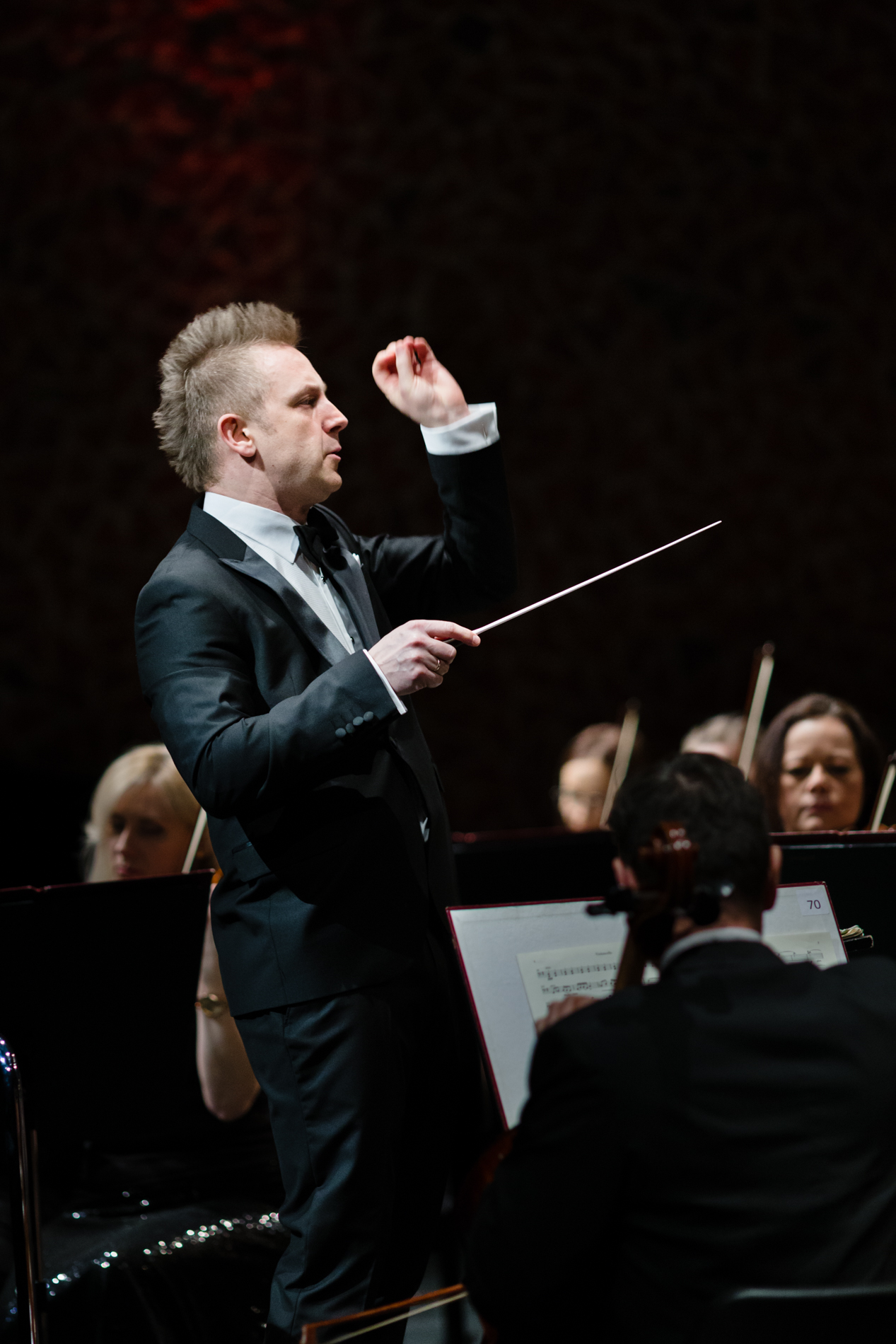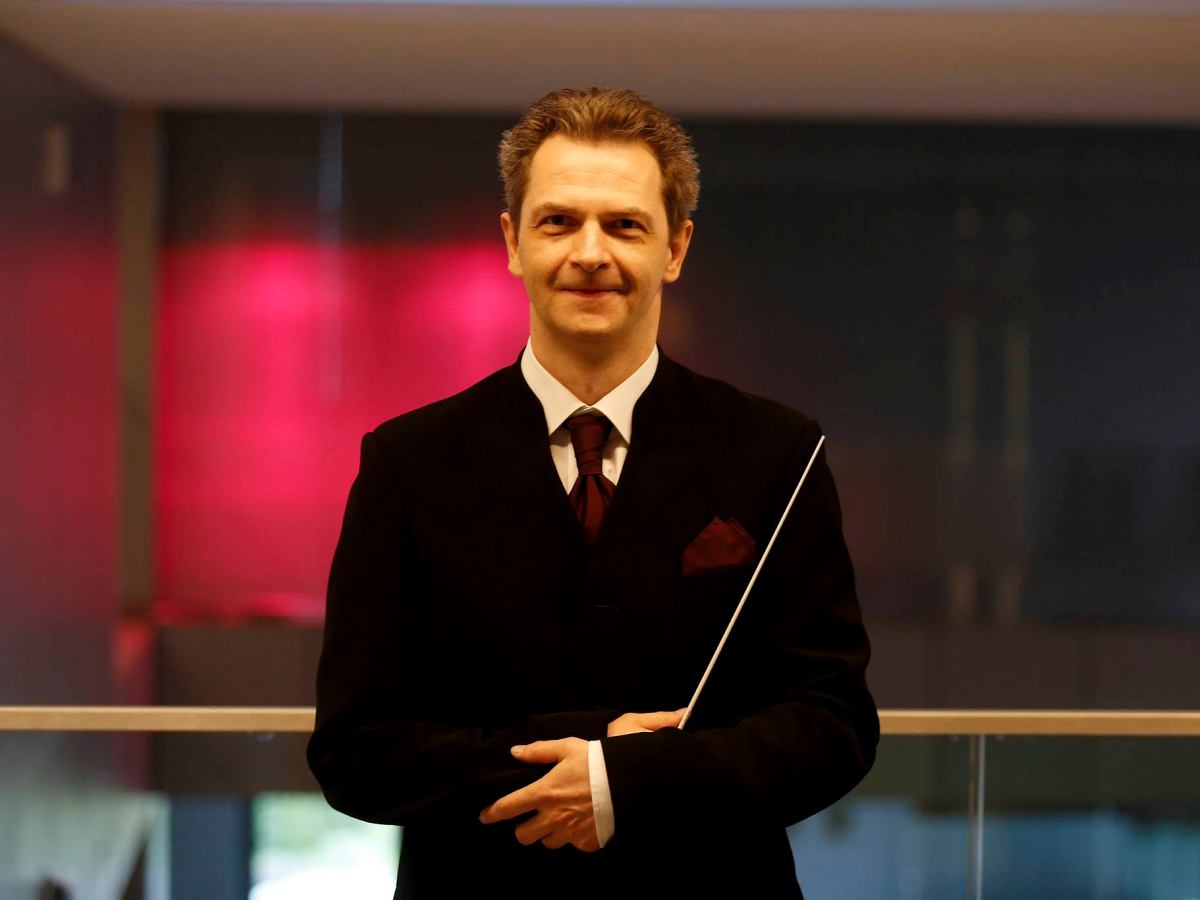 He is a graduate of Academy of Music in Wrocław. Since 2001 he has been the director of Świętokrzyska Philharmonic in Kielce. He has been an author of many first performances and recordings for radio and film. He has performed at many renowned festivals and competitions in Europe, Asia and both Americas. He is also a composer of symphonic, chamber, choral and electronic music. Apart from Poland, his works have been performed in many countries of Europe and North America. He received the bronze medal of 'Gloria Artis' for his services to culture, and an award from the ZAIKS Society of Authors for promoting Polish contemporary music.
A student of the diploma year at Stanisław Moniuszko Secondary State Music School in Jelenia Góra. She has participated in many national music competitions. The young violinist has been involved in orchestral activities, as evidenced by numerous participations in national and international projects. Her participation in the Polish-German art course at the Morawa Palace resulted in an invitation to the concert celebrating the Lower Silesia Award for Kinga Preis. In the current artistic season Kaja Rudnicka has been invited to cooperate with the Lutoslawski Youth Orchestra (LYO), which collaborates with the most talented musicians of the young generation.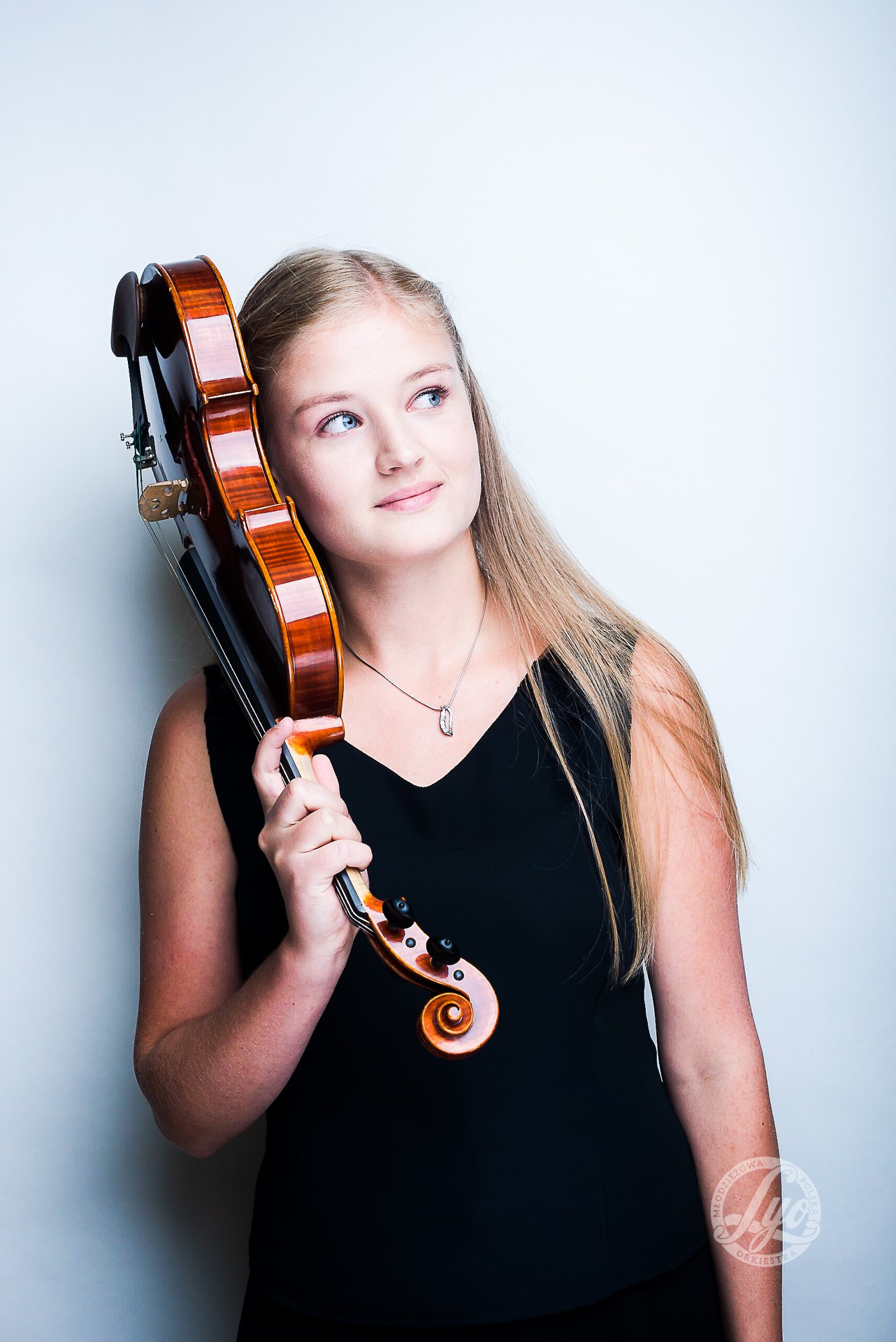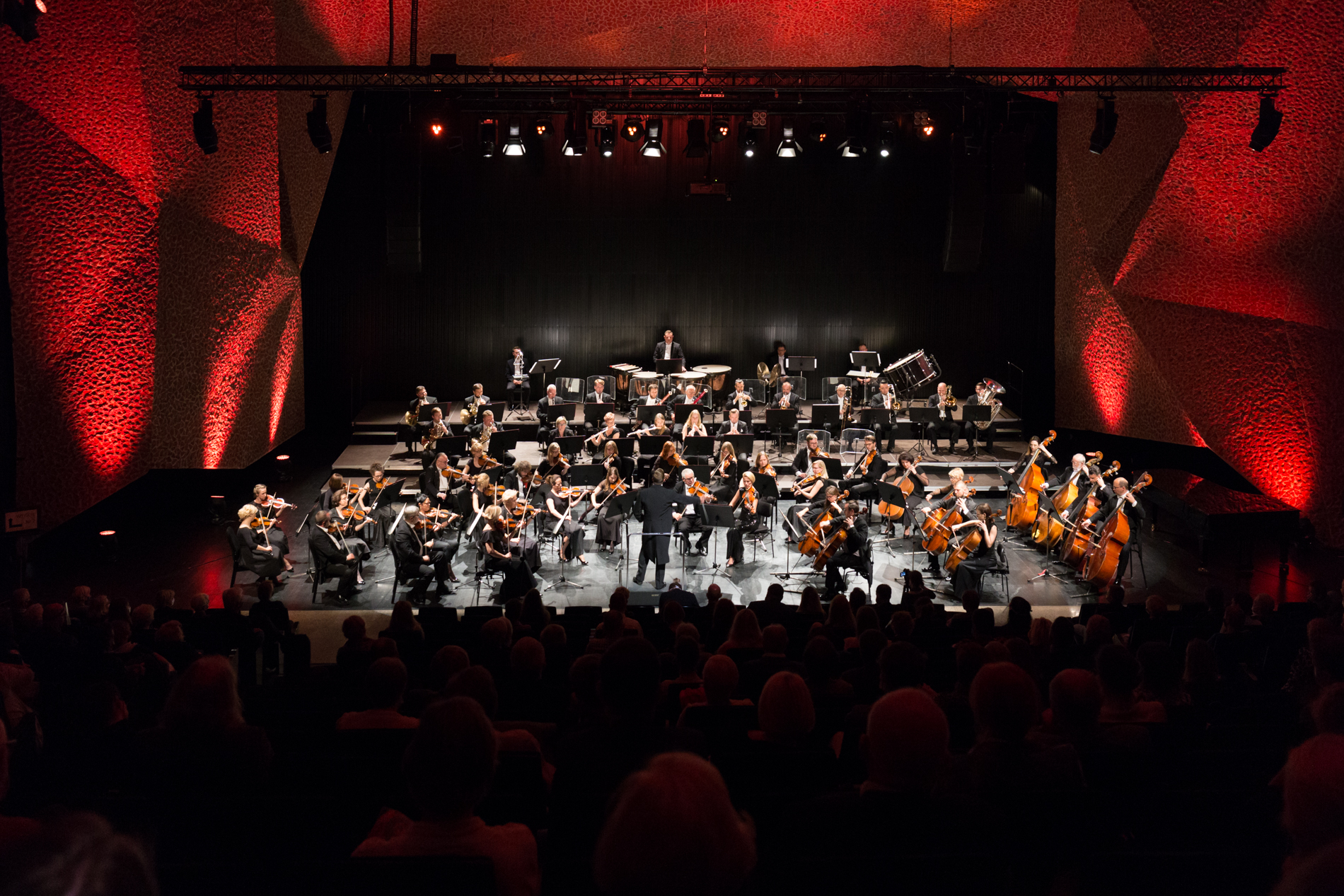 Toruńska Orkiestra Symfoniczna
Toruń, miasto wszechobecnej historii i kultury od momentu odzyskania przez Polskę niepodległości, zabiegał o własną zawodową orkiestrę symfoniczną. Pierwsze próby podjęto w latach 20. XX wieku kiedy powołano orkiestrę, prężne działało Pomorskie Towarzystwo Muzyczne oraz kształcące wybitnych instrumentalistów Konserwatorium Muzyczne. Trudna sytuacja powojenna nie pozwoliła jednak na prędki powrót do działalności regularnego zespołu muzycznego. W 1975 roku Szymon Kawalla, nauczyciel Szkoły Muzycznej oraz jej dyrektor Bogdan Bilski, zorganizowali koncert z okazji XXX-lecia PRL zatytułowany "Rzeczpospolita muzyczna". Solistkami były dwie wybitne postacie muzyki klasycznej Regina Smendzianka (fortepian) oraz Stefania Toczyska (alt) a towarzyszyła im orkiestra złożona z pedagogów szkoły muzycznej. Koncert emitowany przez telewizję, spotkał się z dużym aplauzem co z pewnością miało wpływ na powołanie orkiestry cztery lata później. Pierwszym urzeczywistnieniem dążeń muzyków toruńskich było utworzenie w 1976 roku kwartetu smyczkowego. Zespół ten dał wiele koncertów, które rozbudziły pragnienia i marzenia pozostałych muzyków. Po wielu perypetiach i propozycjach dopiero 30 grudnia 1978 roku ówczesny Minister Kultury i Sztuki, Zygmunt Najdowski, wydał decyzję o powołaniu Państwowej Orkiestry Kameralnej i nadał jej status państwowy. Wraz z rokiem 1979 na stanowisko dyrektora i kierownika artystycznego powołano Szymona Kawallę a na zastępcę dyrektora Andrzeja Kobyłeckiego. W 1990 roku przeszła pod zarząd Miasta Torunia. Jako instytucja samorządowa jemu właśnie zawdzięcza dynamiczny rozwój. W lutym 2006 roku przekształciła się w Toruńską Orkiestrę Symfoniczną. Zespół wpisał się na stałe w kulturalny krajobraz miasta, poprzez organizowanie koncertów dla mieszkańców Torunia i sławiąc jego imię na licznych tournee krajowych i zagranicznych. Toruńska Orkiestra Symfoniczna na przestrzeni swojej działalności dała blisko trzy tysiące koncertów we wszystkich znaczących miastach Polski oraz w wielu krajach Europy (m.in. Belgia, Szwajcaria, Czechy, Słowacja, Niemcy, Dania, Wielka Brytania, Włochy, Francja, Białoruś, Litwa). Koncertowała także na prestiżowych festiwalach. Orkiestra może poszczycić się miesięcznym tournee w Chinach oraz uczestnictwem w dwóch koncertach Gali Operowej w Pampelunie. W październiku 2010 roku Toruńska Orkiestra Symfoniczna zagrała koncert w Cirque Royal w Brukseli. W lipcu 2010 roku zespół towarzyszył Jose Carrerasowi podczas jego występu na toruńskiej Motoarenie. W grudniu 2015 roku oficjalnie otworzono nową siedzibę Toruńskiej Orkiestry Symfonicznej w Centrum Kulturalno – Kongresowym Jordanki. W nowoczesnych i imponujących wnętrzach mieści się Sala Koncertowa dla 882 słuchaczy oraz Sala Kameralna dla 287 słuchaczy. Do dyspozycji zespołu są również garderoby, pomieszczenia administracyjne oraz przestronna Sala Prób, będąca również miejscem koncertów.
Znaczącym wydarzeniem w historii orkiestry jest organizowanie od 1997 roku Międzynarodowego Letniego Festiwalu "Toruń – Muzyka i Architektura", którego kolejna, już 24. edycja odbyła się latem 2020 roku pod nazwą: "NOVA MUZYKA i ARCHITEKTURA". Jego ideą jest prezentowanie muzyki klasycznej w zabytkowych, historycznych wnętrzach. Koncerty festiwalowe rozpoczynają się pod koniec czerwca, odbywają się w lipcu i sierpniu a kończą się w pierwszy weekend września.
Jednym z najbardziej prestiżowych produktów kulturowych Toruńskiej Orkiestry Symfonicznej jest Międzynarodowy Festiwal i Konkurs Skrzypcowy, aspirujący do grona najważniejszych wydarzeń muzycznych na mapie Polski i Europy. Piąta edycja wydarzenia odbyła się w październiku 2019 roku. Międzynarodowi jurorzy na czele z Ilją Kalerem, jedynym na świecie laureatem pierwszej nagrody w trzech najważniejszych międzynarodowych konkursach skrzypcowych, doskonałe imprezy towarzyszące konkursowi, artyści o międzynarodowej randze oraz elita skrzypków-wirtuozów z całego świata, po raz kolejny zapewnili wszystkim ogromną satysfakcję i ucztę muzyczną najwyższych lotów. Statuetkę Astrolabium otrzymał laureat I nagrody, Elias David Moncado (Niemcy).
Na swoim koncie orkiestra ma liczne nagrania dla Polskiego Radia i Telewizji oraz Radia Suisse Romande, oraz ostatnią płytę z muzyką Romualda Twardowskiego, nagraną przez orkiestrę w grudniu 2017 roku, wraz ze skrzypaczką Kingą Augustyn pod dyrekcją Mariusza Smolija.
Na przestrzeni kilkudziesięciu lat z orkiestrą współpracowali najlepsi dyrygenci: T. Bugaj, M. J. Błaszczyk, J. Domarkas, K. Missona, M. Pijarowski, Z. Rychert, J. Salwarowski, J. Swoboda, K. Stryja, T. Wojciechowski oraz wybitni soliści: A. Bauer, R. Blechacz, V. Brodski, K. Danczowska, Ł. Długosz, B. Harasimowicz, A. Hiolski, I. Hossa, E. Indjic, J. Jakowicz, K. Jakowicz, M. Jaszwili, K. Kenner, U. Kryger, K. A. Kulka, P. Kusiewicz, W. Malicki, J. Mechliński, I.Monighetti, J. Olejniczak, P. Paleczny, P.Pławner, E. Pobłocka, J. Rappe, B. Ringeissen, K.Suska T. Szebanowa, S. Toczyska, E. Towarnicka, W. Wiłkomirska, A. Zdunikowski.
Ważnym aspektem działalności Toruńskiej Orkiestry Symfonicznej jest edukacja muzyczna dzieci i młodzieży, obejmująca swym zasięgiem nie tylko Toruń, ale również teren województwa kujawsko-pomorskiego.
Ponadto Orkiestra współpracuje od lat z Zespołem Szkół Muzycznych im. Karola Szymanowskiego w Toruniu, umożliwiając wyróżniającym się młodym artystom występowanie w roli solistów na specjalnie organizowanych koncertach.
Instytucja jest często beneficjentem projektów m.in. z Ministerstwa Kultury, Dziedzictwa Narodowego i Sportu, Instytutu Muzyki i Tańca, Narodowego Centrum Kultury w ramach których organizuje liczne koncerty i uroczystości rocznicowe, okolicznościowe, festiwale, wspiera młodych artystów czy kupuje lub wymienia sprzęt biurowy, sceniczny a także instrumenty.
Obecnie dyrektorem Toruńskiej Orkiestry Symfonicznej jest Przemysław Kempiński, Zastępcą dyrektora do spraw artystycznych Dainius Pavilionis a pierwszym dyrygentem gościnnym Adam Banaszak. Aktualny zespół artystyczny Orkiestry tworzą 53 osoby a administracyjny 11 osób.
A graduate of Ignacy Łukasiewicz Chemical School in Bydgoszcz, a graduate of Cultural Studies at the University of Economy in Bydgoszcz, specialising in photography and multimedia techniques. A former coordinator of creative photographic space in the Museum of Photography in Bydgoszcz and lecturer at the University of Economy. He is a laureate of national and international photography competitions. A documentary photographer of Toruń Symphony Orchestra and a member of the Association of Polish Art Photographers.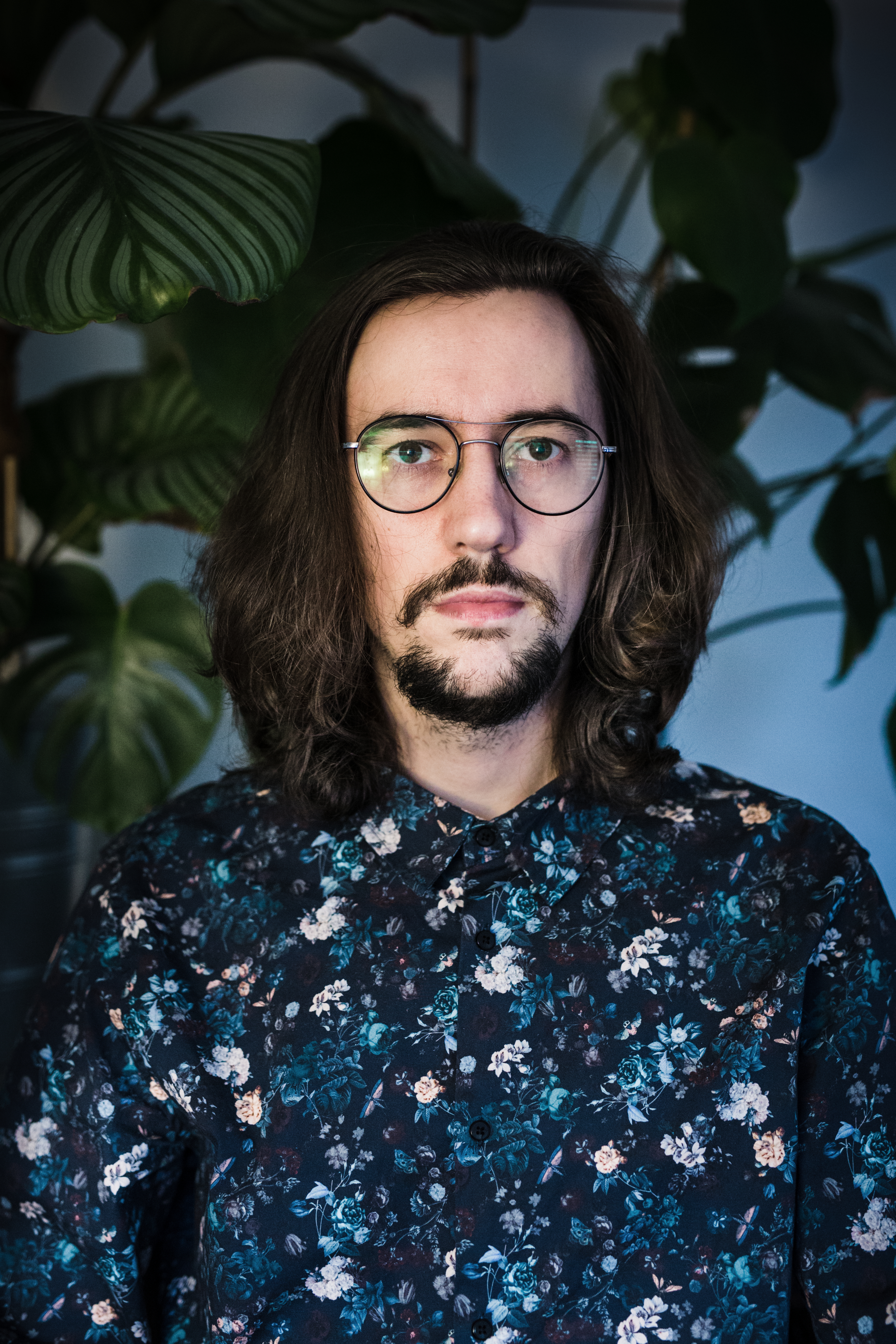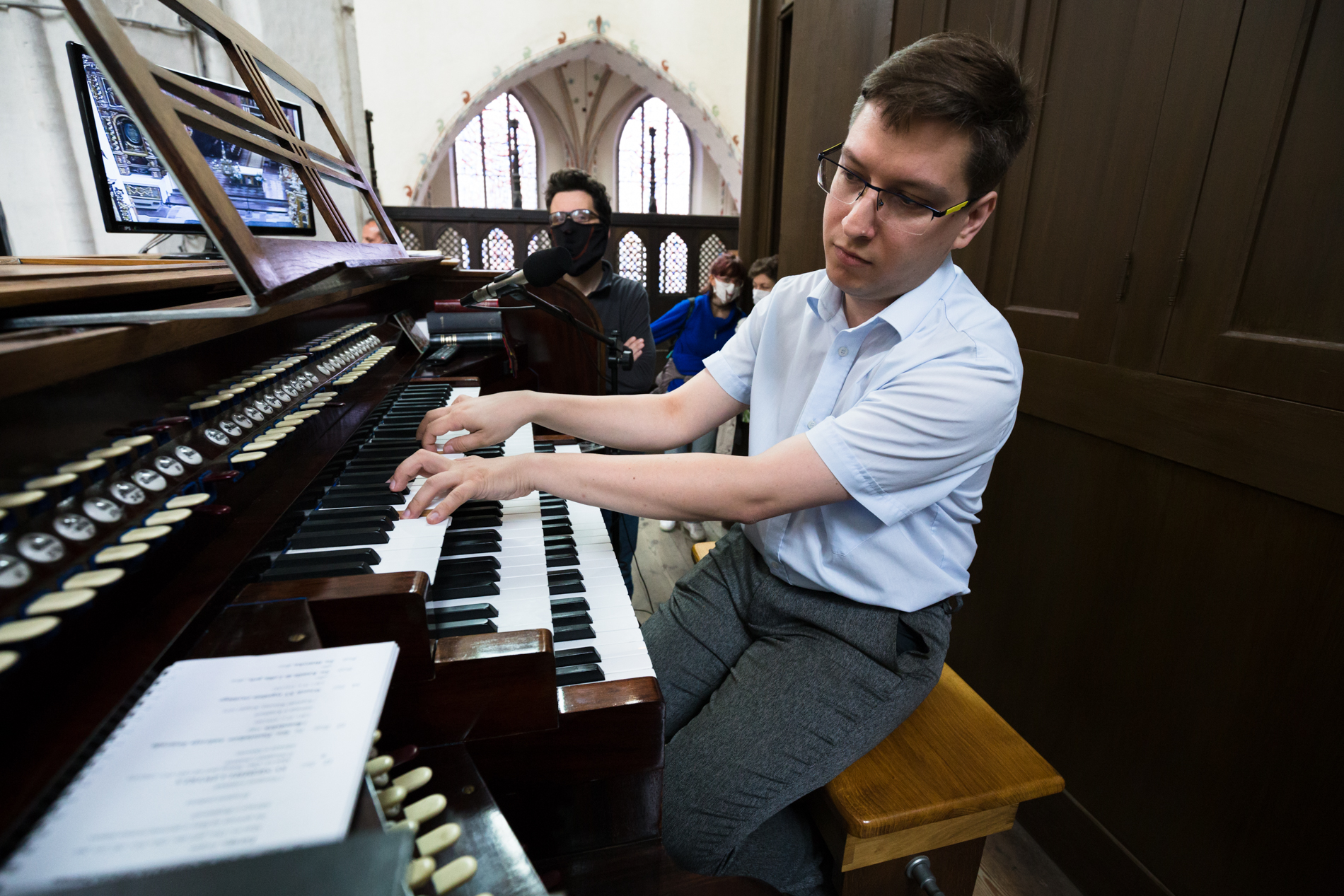 Biography to be completed
Bartłomiej Wezner is one of the most versatile pianists of his generation: a soloist, a chamber musician, pedagogue, culture manager. He is a laureate of international chamber music competitions. He graduated from Feliks Nowowiejski Academy of Music in Bydgoszcz. At the same time he studied harpsichord. In 2013 he obtained the degree of Doctor of Musical Arts, and his habilitation in 2019. In 2014 he became a professor at Feliks Nowowiejski Academy of Music in Bydgoszcz and also became head of the Piano Chamber Music Department. As a soloist he has given concerts with Capella Bydgostiensis, Toruń Symphony Orchestra, Philharmonic Orchestra of Opole, Academy Lviv Chamber Orchestra and Philharmonic Orchestra of Bydgoszcz. The pianist has an excellent command of classical repertoire as well as of 20th and 21st century music.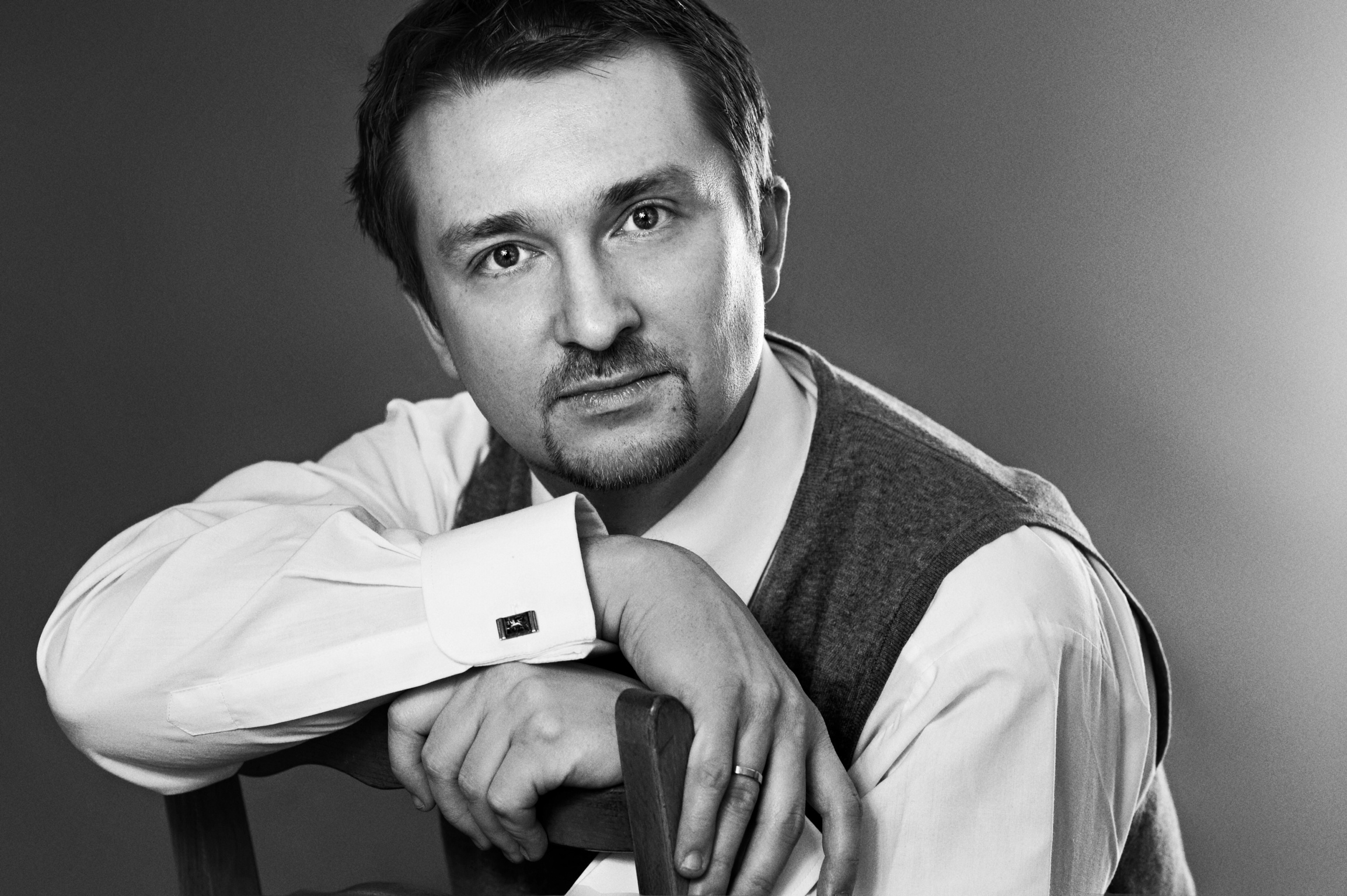 Biography to be completed
Biography to be completed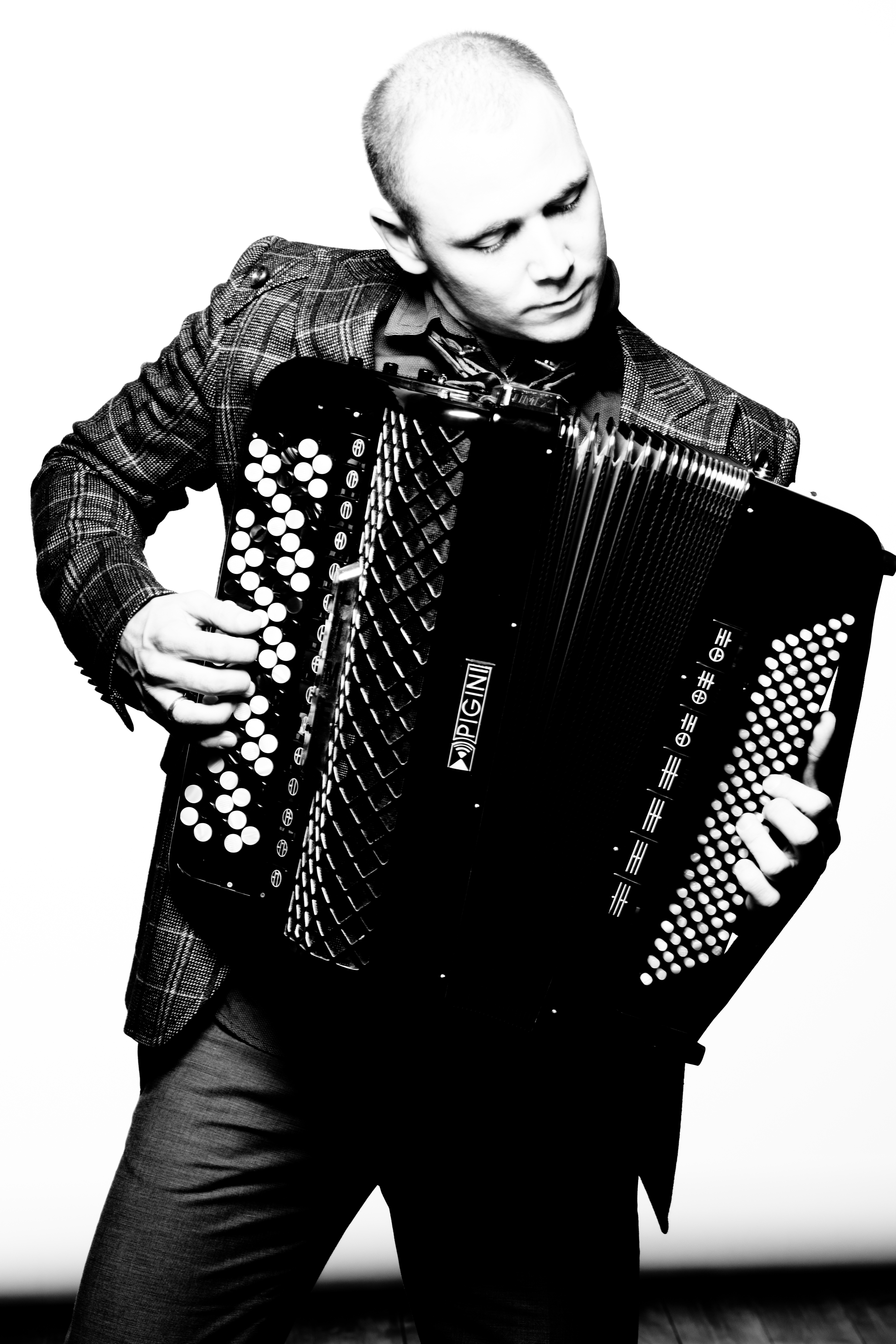 Marcin Wyrostek graduated from the Academy of Music in Katowice in the accordion class of prof. Joachim Pichura, currently a lecturer at his Alma Mater's Jazz Institute. He is a member of the American Accordion Society, as well as the founder and leader of such projects as: Tango Corazon, Coloriage, Music and Dance Show. He is the producer and publisher of his own albums, producer of tours and gala concerts (e.g. National Philharmonic, Polish National Radio Symphony Orchestra). He has worked with many distinguished conductors (e.g. Jose Maria Florencio, Jerzy Maksymiuk, Marek Moś, Adam Sztaba ...), instrumentalists and soloists (including Kayah, Dorota Miśkiewicz, Bobby McFerrin, Nippy Noya, Maryla Rodowicz, Irena Santor, Joanna Słowińska, Stanisław Soyka), Polish philharmonic orchestras and chamber orchestras (Elbląg Chamber Orchestra, AUKSO - Tychy Chamber Orchestra, Sinfonietta Cracovia, Sinfonia Varsovia).
She has been studying at the Hanover University of Music, Drama and Media with Prof. Elisabeth Kufferath since October 2018. She won the prize at many domestic competitions in Japan, the second prize at the Varna International Violin Competition 2015 in Bulgaria at the third prize at the 5th International Karol Lipiński Violin Competition 2019 in Poland. She also received the "Prize of the Rotary Club Radolfzell Hegau" at the International Summer Academy in Radolfzell in 2019. As a solist she preformed with Toruń Symphony Orchestra conducted by Mariusz Smolij, Geidai Philharmonia Orchestra conducted by Ken Takaseki and Göttinger Musikfreunde Orchestra conducted by Vitali Aleksiayonak. She performer at the Gdańsk Music Festival in Poland, the InternationalesMusikfest Goslar-Harz in Germany, at the Orpheus Music Festival in Austria, the Music Festival Argerich's Meeting Point in Beppu in Japan, and many concerts in Germany and Japan. Additionally, Yumiko Yumiba plays with her sister Takako Yumiba as a violin duo. In 2019, they were accepted into the scholarship program of Yehudi Menuhin Live Music Now e. V. Hannover.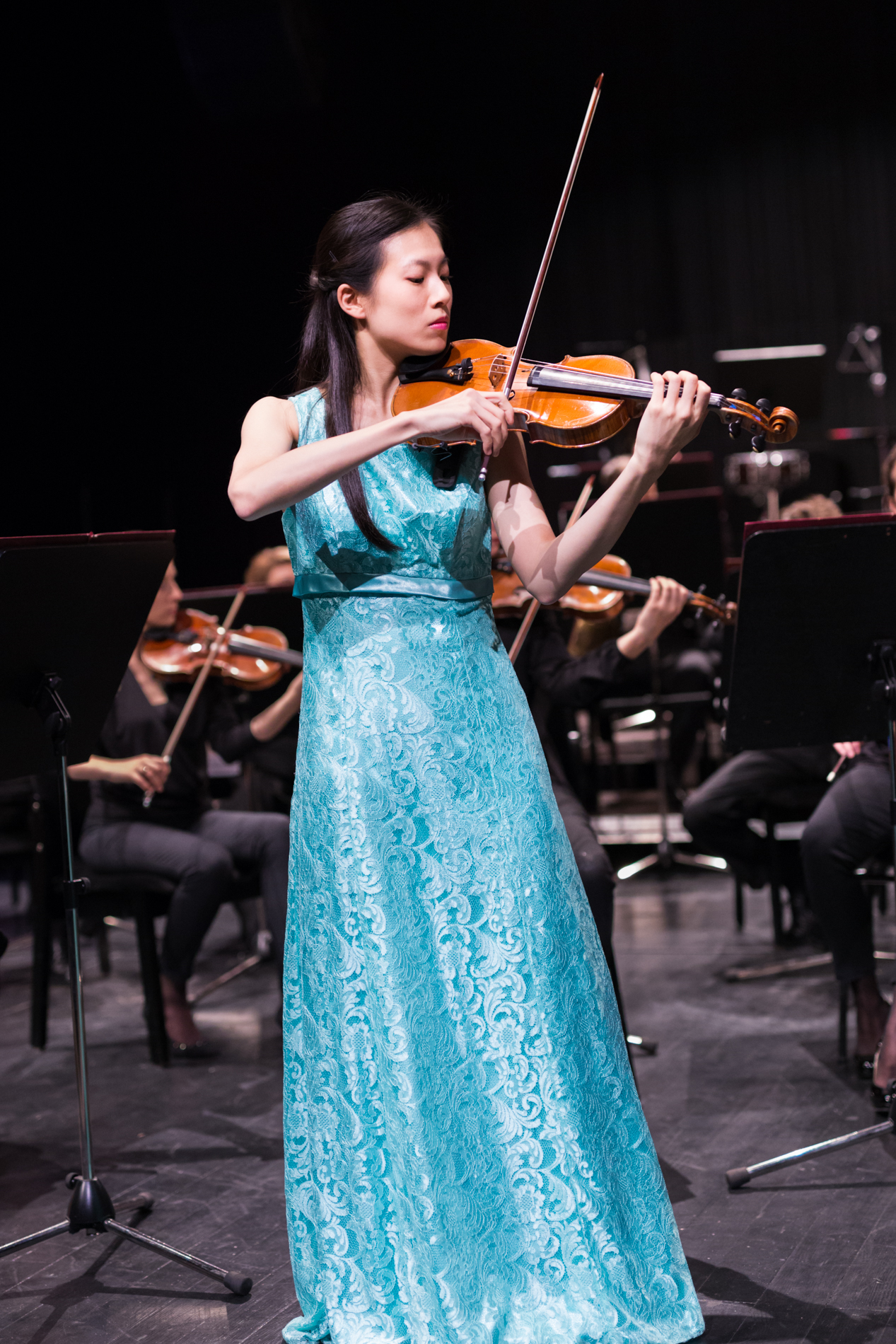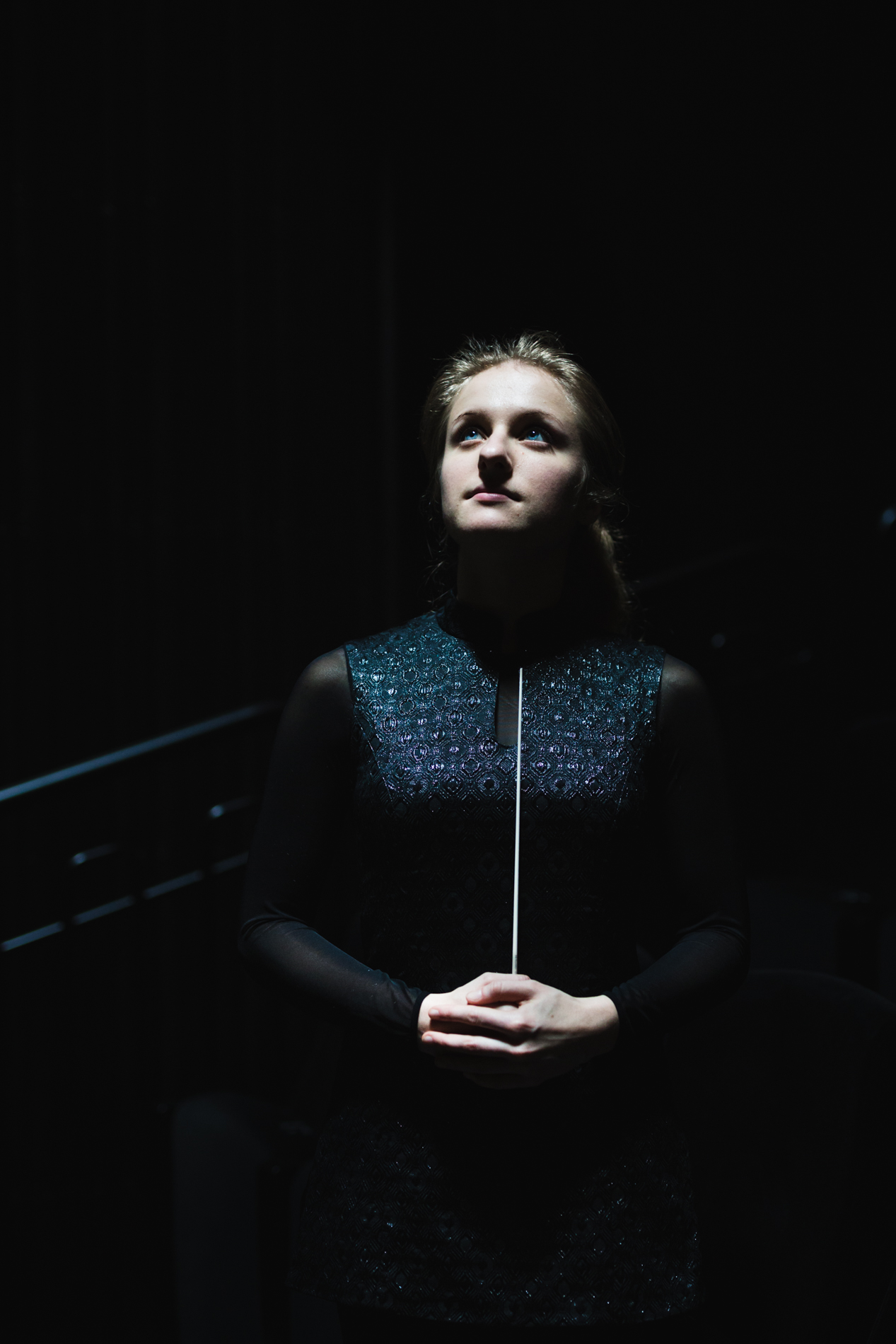 She started her musical path at the age of 7 as a violinist. In 2015 she began conducting studies with Marcin Sompolinski at Poznan Academy of Music and obtained a Bachelor's diploma in 2018. She currently pursues a Master's degree at the same university. Her professional career started in 2018 – she was involved in three premieres in Warsaw Chamber Opera as an assistant conductor. Since September 2018 she has been assisting to Greek conductor Michalis Economou, in his international projects. The last one was China New Year's concert tour with Athens Philharmonia Orchestra in December 2019. During the last two years she took part in conducting competitions and auditions – among others, in Warsaw Philharmonic and Polish National Radio Symphony Orchestra in Katowice. She has also been a student of Peter Eötvös, Gregory Vajda, Marin Alsop, Michalis Economou and Charles Olivieri-Munroe as an active participant at international masterclasses. Since the beginning of her conducting path she had the opportunity to conduct multiple orchestras like Malta Philharmonic Orchestra, Greek Radio Symphony Orchestra, Karlovy Vary Symphony Orchestra and Schumann Youth Orchestra.
He graduated in conducting from Fryderyk Chopin Music Academy In Warsaw, in music pedagogy at Grażyna and Kiejstut Bacewicz Academy of Music in Łódź. Management studies at the University of Warsaw. In 2011, he obtained a Master of Business Administration (MBA) title at the Rotterdam School of Management, Erasmus University and the Gdańsk Foundation for Management Development. He is the founder and president of an art foundation which supports young artists and organises great musical events. He regularly gives concerts in concert halls around the world. Apart from symphonic music, his main interests include oratorio and opera music. He co-created opera galas run by Bogusław Kaczyński.